John Spooney's 234 Rushing Yards Leads Brown Over Penn, 27-0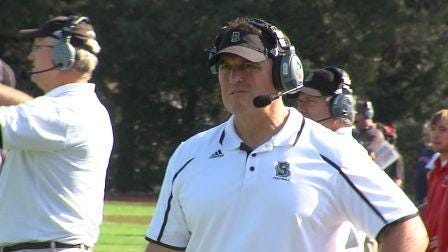 John Spooney's 234 Rushing
Yards Leads Brown Over Penn, 27-0
Providence, R.I. – Senior
tailback John Spooney (Northfield,
OH) re-wrote the Brown and Ivy League record book this afternoon with touchdown
runs of 93 and 94 yards to lead Brown to a 27-0 Homecoming win over Penn at
Brown Stadium. Spooney, who finished
with 232 rushing yards, sixth best in Brown football history, is the first Ivy
League runningback to have a run of 90 or more yards twice in a game.
The win gives the Bears a 5-2 overall record, 2-2 in the Ivy
League, and knocks the Quakers (4-3, 3-1 Ivy) out of first place in the Ivy
League standings. Brown also shut out Penn for the second time in the last
three years.
Sppooney's 94-yard touchdown run is tied for the second
longest ever at Brown and the 93-yard run is third longest ever at Brown. Mark
Kachmer '12 had a Brown record 95 yard run against Yale in 2001, while Spooney
equaled the 94 yard run by Bob Flanders '69 against Yale in 1968. His spectacular 94-yard run ranks 9th
best in Ivy football history.
"When John Spooney plays four quarters he can really control
a football game," said Brown head coach Phil Estes. "The referees were out of
breath and asked him to slow down." With
the game in hand, Spooney actually sat out the game's final 20 minutes.
"This is a great win and we knew it would be a physical game,"
continued Estes, "Our defense came up with several big stops. That was a huge
momentum swing at the end of the half, stopping Penn at our goal line on fourth
down, and coming back to kick a field goal a few seconds later. That's a 10-point swing in our favor."
Bears' quarterback Patrick Donnelly (Longmeadow, MA) was an
efficient 19 of 25 passing for 210 yards and a touchdown.
Overall, Brown ran for 299 yards, while its defense held the
Quakers to just 120 yards on the ground.
Defensively, senior Emory Polley (University Heights, OH)
intercepted two passes, including a 40-yard return. Senior Adewole Oyalowo
(Bowie, MD) led the Bears with 10 tackles, while seniors John Bumpus (Concord,
MA) and Donald Sproal (Yorba Linda, CA) had 1.5 quarterback sacks each.
Spooney electrified the crowd on Brown's first play from
scrimmage to open the game. With the
ball at Brown's seven yard line, Spooney was stopped up the middle, but bounced
to the outside and outran the entire Penn defense 93 yards for a touchdown to
give the Bears a 7-0 lead. It was the second time this year that Spooney scored
on a long TD run on the first offensive play of the game, also scoring on a
73-yard run against Rhode Island.
Brown extended its lead to 14-0 on a misdirection play when Donnelly
rolled right and threw back to the left, connecting with senior tight end
Andrew Marks (Berlin, WI) for a five yard touchdown with 6:28 left in the
opening quarter. The big play in the 71
yard scoring rive was a 39 yard pass completion to senior Jordan Evans
(Brentwood, TN).
Spooney decided that that 93 yard TD run wasn't long enough
and came through with a longer run for a touchdown. This time, with the ball at the Bears' six yard
line, Spooney burst through the line of scrimmage and ran 94 yards for a
touchdown to give the Bears a 21-0 lead with 12:53 remaining in the second
quarter.
Senior kicker Alexander Norocea gave the Bears a 24-0 lead
at halftime with a 44-yard field goal as time expired. Senior Tellef Lundevall's (Highland Park, IL)
67-yard reception set up the field goal.
Norocea put the exclamation point on the victory with a
45-yard field goal with 4:57 left in the game, giving the Bears a 27-0
advantage. Norocea is a perfect 8-of-8
in field goals for the season.