Johnson and Wales Advances to GNAC Semifinals by Bouncing St. Joseph's of Maine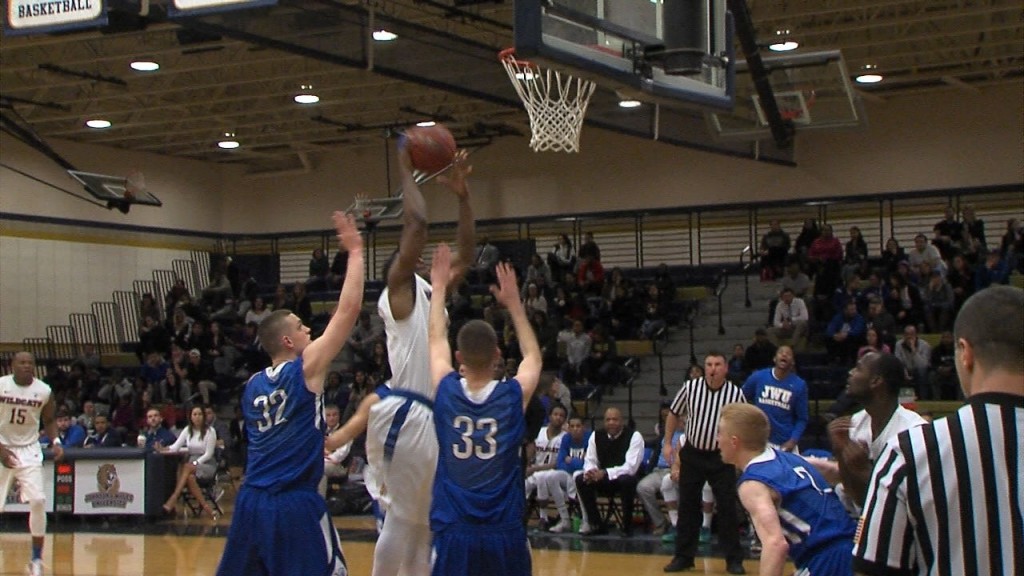 Johnson and Wales news release…
If defense wins championships, the 14th-ranked Johnson & Wales men's basketball team has taken a good step towards winning the GNAC Tournament. The Wildcats limited St. Joseph's College of Maine to a season-low 36 points as JWU rolled to a 73-36 victory over the Monks.
The Wildcats played stingy defense from the start as they limited the visitors to just 16 points in the first half. It's the second time in the last three games that JWU has held a team to 16 points or fewer in the first half. Johnson & Wales held the Monks to 29.4 percent shooting (15-of-51) from the field.
With the victory, Johnson & Wales set the school record for most victories in a season. The 24 triumphs break the tie with the 2013-14 team that went 23-7 on its way to the ECAC New England Tournament title.
While JWU didn't' have its best offensive night of the season, it did play great defense. St. Joseph's 36 points are the fewest scored by a Wildcat opponent since it held Emmanuel to 36 on January 7, 2014. Johnson & Wales' 73 points are tied for its second-lowed offensive output of the year.
Outscoring the Monks and accounting for nearly 50 percent of the Wildcats' scoring was the senior tandem of Tom Garrick (Seekonk, Mass.) and Quarry Greenaway (Westchester, NY). Garrick tallied a game-high 20 points and Greenaway added 18. Greenaway led the way with 11 rebounds while Garrick hauled in 10. It's the third time this season both players have posted a double-double in the same game.
Johnson & Wales turned a one-point contest, 6-5, into a double-digit lead as it went on a 13-2 run that was capped by a Greenaway jumper. The Monks got within five, 21-16, at the 5:06 mark of the first half, but JWU closed the opening stanza on a 12-1 run to take a 33-16 lead to the locker room.
Two other players got into double figures for the Wildcats. Senior Robert Lewis (Providence, RI) was nearly perfect off the bench as he shot 6-of-7 to score 15 points. He's reached double figures in three of the last four games. Junior guard Anthony Jernigan (East Hartford, Conn.) was next with 12 points to go along with five rebounds, three assists and three steals.
Quinn Richardson-Newton led the Monks with nine points and just missed a double-double with nine rebounds. Ian Mileikis and Craig Luschenat followed with eight points each.
Up Next:
Johnson & Wales moves onto the GNAC Tournament semifinals on Thursday. The Wildcats will play host to Emmanuel at 7:30 p.m. JWU beat the Saints earlier in the season by 82-54 and 116-74 margins.