Johnson & Wales Wrestling Earns Third Straight NCAA Division III Northeast Regional Title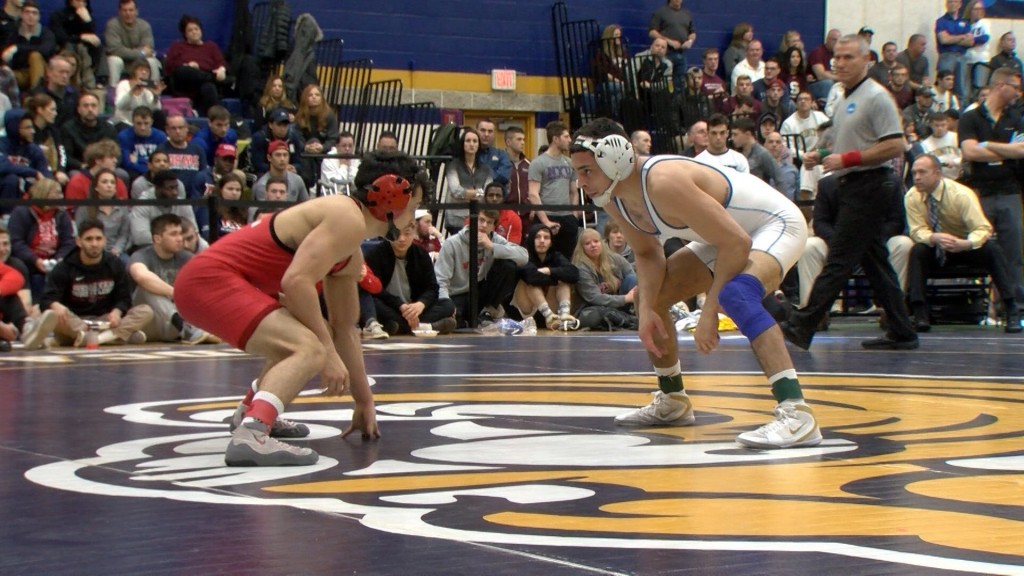 Johnson & Wales University Press Release
PROVIDENCE, RI – Going into the NCAA Northeast Regional, Johnson & Wales University wrestling coach Lonnie Morris knew his squad had a chance for a special weekend. The Wildcats turned in a record-setting performance as they rolled to their third-straight regional championship in a row.
Johnson & Wales is sending nine wrestlers to the NCAA Championships – March 8-9 in Roanoke, Va. – which is the most ever by a New England school. The Wildcats also set a Northeast Regional record by scoring 187 points.
Senior Khamri Thomas was named the Most Outstanding Wrestler of the meet. Head coach Lonnie Morris was named Coach of the Year and Brian Allen captured Assistant Coach of the Year.
Coast Guard was second with 120 points, followed by Roger Williams (117), WPI (84.5) and Castleton (83.5).
Johnson & Wales captured four championships with three second-place finishes and two third-place finishes.
After becoming the program's all-time wins leader on Saturday, senior Jay Albis became the third Wildcat in program history to win three regional championships when he won at 125 pounds. He beat Wesleyan's Zack Murillo, 5-3, in overtime.
Senior Bobby Jordan dominated both of his matches on Sunday with a pair of major decisions. He won his second regional title by downing Norwich's Jacob Forsman, 20-10.
Also joining the three-time champions club was senior Joe Ferinde at 141 pounds. A pin in just 3:52 against Ryan Peters of Springfield got him into the finals and he won via forfeit.
Grabbing his second championship in a row was Thomas at 184 pounds. A close 5-2 decision over Coast Guard's Paul Detweiler got him into the finals where he handled second-ranked John Boyle, 10-2, to win the title.
Last year Michael Gargano exited the regional early but he more than made up for it in his final go-around. He recorded a narrow 6-5 win over the second seed Malik Settles of New England College to guarantee his spot at nationals, but lost 4-1 to AJ Aberli of Coast Guard in the finals.
JWU forfeited a pair of championship matches. A 6-3 decision in the semifinals of the 149 pounds got Da'mani Burns his first trip to the NCAA Championships. Earning a second trip to nationals was junior Michael DiNardo at 197 pounds as he beat Simon Chee of Wesleyan, 5-2, in the semifinals.
A loss on Saturday forced Adrian Gonzalez and Tommy Wrzesien to win three times on Sunday to get to the NCAA Championships. At 165 pounds, Gonzalez recorded a 13-4 major decision over Trinity's Zach Reilly to make his second appearance at the national championships. The rookie Wrzesien topped Roger Williams' Adam Patsun, 8-1, at 285 pounds for his first trip to the NCAAs.
It was almost a clean sweep for the Wildcats, but senior Thomas Grippi was defeated in the consolation finals. He beat Williams' Brandon Seyfried to advance, but was stopped by NYU's Dylan Dwyer, 5-4.