Johnson & Wales Women's Volleyball Wins NCAA Tournament Regional, Advances To Elite Eight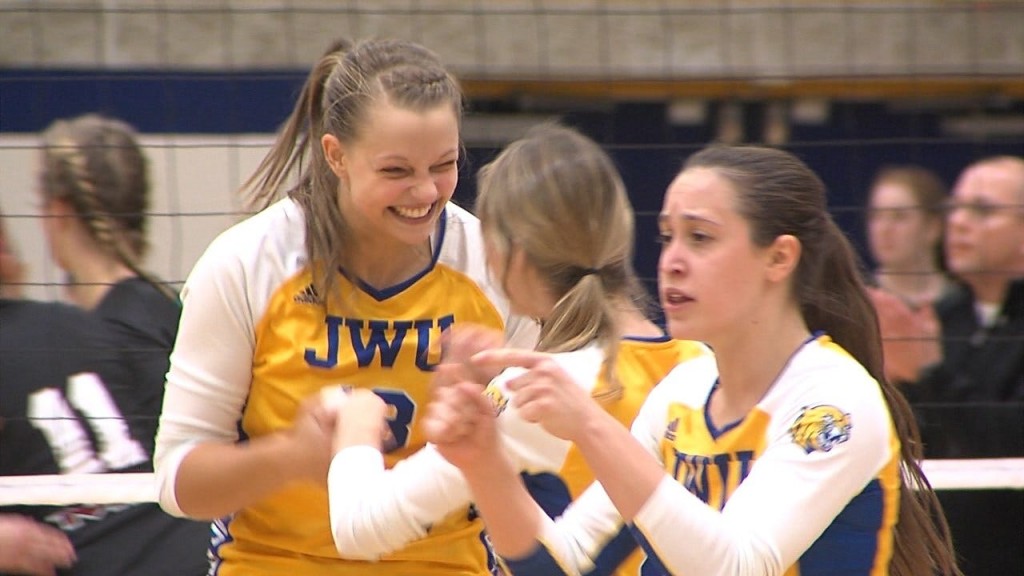 Johnson & Wales University Press Release
PROVIDENCE, RI – The Johnson & Wales University women's volleyball team appeared to have the NCAA Tournament Regional title in hand, only to see MIT fight back, but in the end the Wildcats regrouped and earned a spot in the Elite Eight. Johnson & Wales defeated the Engineers 3-2 (25-11, 25-22, 24-26, 25-22, 15-13) on Sunday.
Records:
MIT: 30-3
Johnson & Wales: 35-0
Statistical Leaders:
Brylee Frank (JWU): 42 assists, 15 digs
Maria Coniglio (JWU): 12 kills, 10 digs
Katie Leidhold (JWU): 17 kills, 15 digs
Lisette Tellez (MIT): 12 kills, 13 digs
Of Note:
Johnson & Wales advances to the Elite Eight, which will be hosted by Calvin College in Grand Rapids, Mich. The Wildcats will find out their opponent for Thursday's match up on Sunday night.
The regional title was in reach for the Wildcats as they went up 22-18 on an MIT error. The Engineers rallied to take a 23-22 lead on a Alli Davanzo kill. A JWU block tied the set, 24-24, but a blocking error and kill from Clare Farley prolonged the match.
A kill from Maria Coniglio (Old Bethpage, NY) pulled JWU within 17-16 in the fourth set, but MIT responded with a 5-1 run that was capped by a Carly Staub kill. The Wildcats fought back to 23-22, but a hitting error and an ace forced a fifth set.
In the fifth set, the Engineers used a 5-1 run to take a 13-12 advantage on a Staub kill. Another Coniglio kill evened the set then the Wildcats ended the match with a block.
Katie Leidhold (Acushnet, Mass.), Coniglio and setter Brylee Frank (Palm City, Fla.) all had double-doubles. Leidhold produced a team-high 17 kills along with 15 digs. Coniglio was next at 12 kills and 10 digs. Frank handed out 42 assists and had 15 digs. Libero Elyssa Nicolas (Brisbane, Calif.) notched 23 digs as the Wildcats had an 87-78 advantage in that category.
MIT was led by Abby Bertrics and her match-high 18 kills. She was one of three Engineers with double-digit kills as Davanzo added 16 and Lisette Tellez chipped in 12. Andi Maloney dished out a match-high 49 assists and Carly Silvernale produced a match-best 28 digs.
NCAA Providence Regional All-Tournament Team
Brylee Frank, Johnson & Wales – MVP
Katie Leidhold, Johnson & Wales
Kate Walker, Johnson &Wales
Abby Bertics, MIT
Alli Davanzo, MIT
Phia Bellizzi, Wesleyan
Brigid Bell, Tufts