Johnston Police Officer arrested for B&E and assault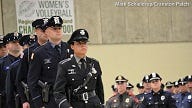 Dee DeQuattro
ddequattro@abc6.com
A Johnston Police Officer has been charged with breaking and entering, simple assault and battery, and disorderly conduct stemming from an incident on August 5.
Marisa Ciccone is accused of breaking into a home at 53 Byron Boulevard in Warwick and demanding money from the resident. Police say the 24-year-old police officer entered the home with 44-year-old James Fortin and demanded the money, she was owed from an alleged drug transaction more than a week ago.
Inside the home the resident said Ciccone ransacked the house and threatened all the occupants. Ciccone is also accused of striking the 17-year-old daughter of the residents who came to the aid of her parents.
Both Ciccone and Fortin have appeared before a bail commissioner and will appear in Kent County District Court on September 16.
Johnston's Police Chief Richard Tamburini says the department is taking the incident very seriously and are conducting an internal investigation. Ciccone has been suspended without pay pending the result of the investigation.
(C) WLNE-TV 2013