Johnston residents call for 9-1-1 system reform following devastating house fire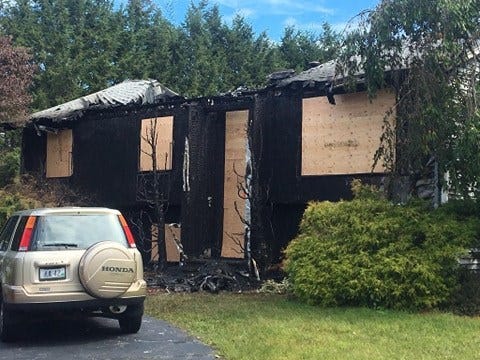 By: Ellie Romano
Email: ERomano@ABC6.com
Twitter: @ERomanoABC6
JOHNSTON, R.I. (WLNE) – The 9-1-1 system in Rhode Island is under scrutiny following a house fire on the Johnston-Smithfield line.
A home on Roger Williams Drive sustained major damage after catching fire around 11:30 p.m. Saturday night.
The homeowners were not home at the time of the fire, but their five cats were. The bodies of four of the cats were found in the rubble. A fifth is still missing.
"I've never seen anything like it," said neighbor Fred Pontarelli.
Pontarelli and several other neighbors believe the 9-1-1 system is outdated because the closest fire department was not the crew called to the scene.
The home is on the Johnston-Smithfield line. Its address reads Johnston, but it's actually closer to the Smithfield Fire Department. They are a mile away from each other.
The Johnston Fire Department is about four miles from the home. Even though it's farther away, Johnston was the department that received the 9-1-1 call.
"If you call 9-1-1 they have your address. The address came up as Johnston, so they're going to give it to Johnston Fire," said Johnston Fire Chief Peter Lamb.
Residents in the area want the 9-1-1 system to change so that the closest department would receive the call.
"They'd let someone die because of a line in the map?" said Pontarelli.
Lamb said it took about 7-8 minutes for his department to respond to the fire. He said it wouldn't have mattered if Smithfield responded first.
"Smithfield could have had water on the fire a couple of minutes earlier," said Lamb. "But the outcome would have been the same."
To taxpayers like Pontarelli, the system is broken.
"Forget if it's Johnston, Smithfield, or New Jersey! if you're close to it, save that," said Pontarelli.
According to Smithfield Fire officials, they can't respond to a Johnston emergency unless they're called for backup.
Both Smithfield and North Providence were called for assistance in this house fire.
This is the third fire in five months on this side of Johnston, according to Smithfield Fire.
The cause of Saturday's house fire is still under investigation, although Chief Lamb said it appears accidental.
©WLNE-TV/ABC6