Judier Dixon Arraigned on Murder Charges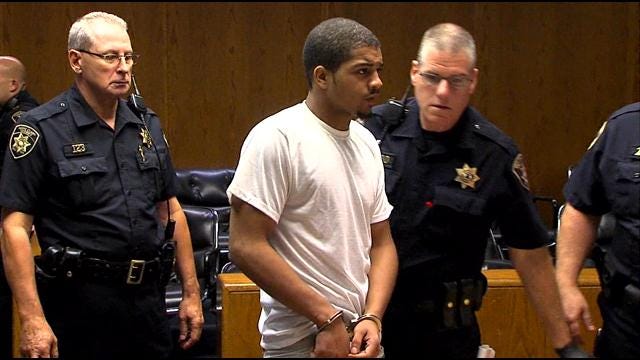 By Dana Griffin
PROVIDENCE, RI- Family members of Richard Arenas were in Providence District Court to get a good look at the man accused of killing him.
As 19–year–old Judier Dixon enters the court room, he glances at the family of 46–year–old Richard Arneas. Tears and anger were on their faces during Dixon's arraignment for the June 12th murder of Arenas.
"Upon arrival, they located the deceased victim, Richard Arenas in the driveway in front of the garage with an apparent three-gunshot wounds to the head," said prosecutor, Charles Calenda.
Arena's niece, Rosalee Velez said, "He took an innocent man's life for nothing. And he hurt a lot of people."
Family members are as angry today, as the day that 'Richie' was shot and killed on Leah Street in Providence. Arenas was a hard working mechanic who would fix cars even when people could not pay him.
Dixon has been charged with first-degree murder and two felony gun charges. As he left the court room, family members cursed at him.
It doesn't appear the Dixon family was in court today.
"No one came for him in court. All his family that hid him, they knew where he was. His little girlfriend that was calling him while he was in Alabama where was she? Cause they knew he's wrong. At the end of the day he did wrong," said Velez.
Today, Dixon was held without bail. He's also suspected in another shooting.
© 2013 WLNE-TV