Jury Orders Providence Officer to Pay 17,000 in assault case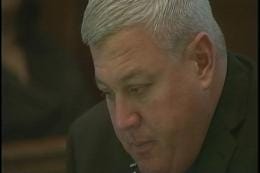 After hearing closing arguments on Thursday, the seven person jury reached a verdict on Monday afternoon.
The jury found Kells to be liable of the assault and battery claims, but cleared him of the false imprisonment and emotional distress allegations. They ordered Kells to pay 17,000 in damages to the man he was accused of assaulting. 5,000 in compensation and 12,000 in punitive damages.
Providence Police Officer Robert Kells was sued for allegations he assaulted a man he thought molested young girls. Kells was caught on surveillance video aggressively grabbing the man accused of child molestation in 2004.
Since the incident in 2004, Kells has been cleared of criminal charges in this incident and the man he confronted, Ricardo Tavares, was cleared of the child molestation accusations.
Tavares had asked for 100,000 dollars in compensation. The jury ordered Kells pay 17,000 to Tavares.
Officer Kells sticks by his motive for confronting Tavares.
"My lack of professionalism was compromised that evening by two little girls," He told ABC 6 after the verdict was given.
Kells says after hearing allegations Tavares molested two young girls, he wanted to make sure Tavares stayed away from them.
Tavares recalls the December night in 2004.
Tavares says, "horrible, horrible day."
Tavares says the 17,000 the jury ordered Kells to pay him, isn't enough. He'd asked for 100,000.
"It's never enough," said Tavares.
The verdict has lifted a huge weight off of Kells.
"I accept full total complete responsibility for my actions, I will take my punishment and move on," said Kells.
But Tavares' attorney may not be ready to move on.
Attorney John Reilly said, "whether this sends the right message or not is another question."
Reilly says he is seriously considering asking for a new trial because one of the witnesses shouldn't have been allowed to testify. That witness, is a guidance counselor who testified about the child molestation allegations against Tavares, which he was cleared of. Reilly says her testimony underscored his clients position.
Kells' attorney, Michael Colucci, tells ABC 6 he may file a motion to lower the 17,000 dollar award.
This will be back in court on March 13th