Keegan Bradley and Jon Curran Claim CVS Health Charity Classic Crown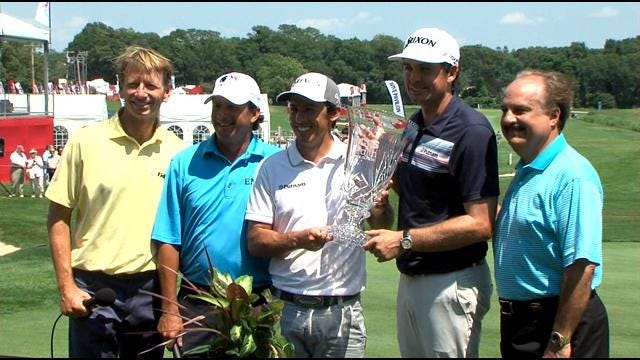 CVS Health Charity Classic news release…
BARRINGTON, R.I. (June 30, 2015) – Hopkinton (Mass.) High School golf teammates Keegan Bradley and Jon Curran once again paired up to take home a title, this time the 2015 CVS Health Charity Classic. The long-time friends posted an impressive 21-under-par 121. Their victory marks only the second time in the tournament's 17-year history that a team of newcomers to the charitable tournament's field earned the title.
Second-place finishers Lexi Thompson and Harris English were two strokes behind, closing out at 19-under-par followed by third-place finishers Billy Horschel and Jimmy Walker with a 18-under-par 124. The rest of the field comprised of the top names on the PGA, LPGA and Champions Tours continued to bunch together, often separated by only single strokes.
Closest-to-the-Pin
Brad Faxon won Tuesday's closest-to-the-pin contest with a distance of 5'2" on hole 17, earning $25,000 for Meeting Street, the tournament's charity partner with which he was paired.
Charity Miles Program
New this year, the tournament launched the CVS Health Charity Classic Charity Miles campaign, sponsored by Aon Hewitt, which encouraged fans to download the Charity Miles app and earn money for their designated charity while walking, running and biking. So far this month, fans have logged more than 100,000 miles which translates to $25,000.
–more–
CVS Health Charity Classic – Page Two
The following are the final results after the two-day event:
Hole 1 2 3 4 5 6 7 8 9 Out 10 11 12 13 14 15 16 17 18 In Total
4

4

4

4

3

4

4

5

4

36

3

5

4

4

4

4

4

3

4

30

71
1 -21 (121) $300,000
Jon Curran / Keegan Bradley
3 3 4 4 3 3 4 4 4 32 2 4 3 3 4 4 3 2 3 28 60 (-11)
4

3

4

3

2

3

3

4

4

30

2

4

4

4

4

4

4

2

3

31

61 (-10)
2 -19 (123) $200,000
Lexi Thompson / Harris English
3 3 4 4 3 3 4 4 4 32 3 4 3 3 3 3 4 2 3 28 60 (-11)
4

4

4

3

2

3

4

4

3

31

3

4

3

4

4

4

4

3

3

32

63 (-8)
3 -18 (124) $170,000
Billy Horschel / Jimmy Walker
4 4 5 4 3 3 3 3 4 33 2 4 3 4 4 4 4 2 4 31 64 (-7)
3 3 3 3 3 3 4 3 3 28 3 4 3 4 4 4 3 3 4 32 60 (-11)
Morgan Pressel / Russell Henley
3 3 3 4 3 4 4 5 3 32 3 4 3 3 4 3 3 3 4 30 62 (-9)
4 4 3 4 2 4 4 4 3 32 3 4 3 4 3 3 4 3 5 32 64 (-7)
Hunter Mahan / J.B. Holmes
5 3 4 4 3 3 4 4 3 33 3 4 4 4 4 3 4 2 3 31 64 (-7)
3 3 4 3 3 3 4 4 4 31 3 4 3 4 4 4 4 2 4 32 63 (-8)
Van Pelt / Stricker
3 4 4 5 3 3 4 3 4 33 2 4 2 3 3 4 4 3 4 29 62 (-9)
3 4 4 4 3 4 4 4 4 34 3 4 3 4 4 3 4 3 3 31 65 (-6)
Andrade / Faxon
3 4 4 3 2 3 4 4 5 32 2 5 4 3 4 4 3 3 3 31 63 (-8)
4 4 4 4 3 3 4 4 4 34 3 4 4 3 4 3 4 2 4 31 65 (-6)
Pettersen / Compton
3 4 4 3 3 3 4 5 4 33 2 5 4 3 4 4 3 2 3 30 63 (-8)
4 4 4 4 2 4 4 4 4 34 3 5 4 4 3 3 4 2 3 31 65 (-6)
Haas / Simpson
3 4 3 3 2 3 4 4 4 30 2 5 3 3 3 4 4 3 4 31 61 (-10)
4 4 4 3 3 3 4 4 4 33 3 4 4 4 4 4 4 3 4 34 67 (-4)
Inkster / Jacobsen
3 5 4 4 3 4 4 4 4 35 3 6 3 4 4 4 4 3 4 35 70 (-1)
4 4 4 3 3 4 4 4 4 34 3 4 3 4 3 4 4 3 4 32 66 (-5)