Ken Bell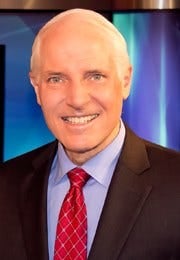 How did you get started in this business? Was there someone or something that inspired you to take this path in life?
I always loved sports but I had a back problem that would not allow me to play after Little League. I became fascinated by sportscasting but I was very shy. It wasn't until I was forced to take a speech course in the 8th grade that I discovered a hidden talent. My junior and senior high speech teachers had the greatest impact on my life.
What is your favorite sport?
I love football.
Who is your favorite athlete?
My all time favorite athlete is Larry Bird because of how hard he always played the game.
What do you like best about what you do, and why?
I really enjoy meeting the players and finding out what motivates them. My favorite stories are on athletes who have had to overcome great adversity to succeed. I like covering sports because the people and the seasons are always changing.
If someone were talking about you, how would you like to be described?
I would like to known as a person who has passion for his job and care for the community in which I live. I love covering sports but I also realize that life is more than fun and games. I also want to be known as a team player at Channel 6, doing my part to help the whole news team succeed.
What are your favorite things to do when you're not reporting the sports?
I enjoy running and jog about 4 1/2 miles a day. My favorite thing to do is hike in the mountains. Being from Colorado, I grew up hiking and I really enjoy spending time in the White Mountains of New Hampshire. I also devote a lot of time serving my church.
What do you find most interesting about Rhode Island/Bristol County, MA?
I really enjoy covering sports in this area. It's great to have the Red Sox, Patriots, Celts and Bruins close enough to cover closely. However, it's great to have our own identity with PC, URI, Brown, the P-Bruins and the PawSox to cover. It's nice to be able to cover players who one day play for the Red Sox and Bruins. I am thankful to be able to work at ABC 6 for the past 25 years because it gives me a great sense of the history of sports in New England.
If you were to be granted an exclusive interview with someone, living or dead, who would you choose, and what would you ask?
I'd love to talk to Jesus. We'd talk about life.
Any comments you would like to add:
The best moment of my career was in 2004 and again in 2007 when I covered the Red Sox winning the World Series.
I had been there for all the heartache. I was at Fenway in 1978 when Bucky Dent hit the home run. I was at Shea Stadium for game 6 of the 1986 World Series when the ball went through Bill Buckner's leg. I was there in 2003 when Aaron Boone hit the 11th inning homer to beat the Sox at Yankee Stadium. That made covering the World Champion Red Sox that much more meaningful. Covering the Patriots Super Bowls has also been memorable. And I was there was the Celtics last won an NBA title in 2008. Hopefully there will be many more titles to cover.