Ken Block kicks off campaign for Rhode Island Governor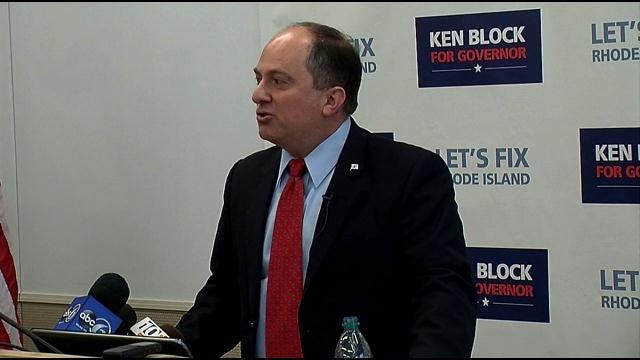 by ABC6 Chief Political Reporter Mark Curtis
Former Moderate Party candidate Ken Block came out swinging as he kicked off his campaign for the Republican nomination for Governor.
Block is proposing cuts to the corporate tax; the car tax; the death tax; and, even a test program to cut the sales tax.
The goal – attract more businesses and jobs to Rhode Island.
"This is the problem. We do not compete on the local, regional, national or world stage. We're failing to compete and it's killing us," said Ken Block, (R) Candidate for Rhode Island Governor.
Block said "insider" deals like "38 Studios" would never happen if he's Governor.
ABC6 Chief Political Reporter Mark Curtis said, "With Republicans such a small minority in Rhode Island politics Ken Block knows he must attract a lot of independent voters if he is top become Governor."
Block was introduced by outspoken Rhode Island businessman, John Hazen White Jr., the CEO of Taco Industries.
White has contributed to gubernatorial candidates, Allan Fung, Gina Raimondo and Angel Taveras.
So, was this an endorsement of Block?
"This is not an endorsement by me, Mark. No and thank you for asking that…. However, I want to see what programs are put forth by these folks, and then, you know, we'll see where you go from there," said White, of Taco Industries
Block painted his rivals as professional politicians, and himself as a self–made businessman.
"I am the only person in this race, who is coming at you with the ideas that we all need to change that dynamic," Block.
The primary election is Tuesday September 9th.