Kennedy, Cicilline mark JFK speech in Providence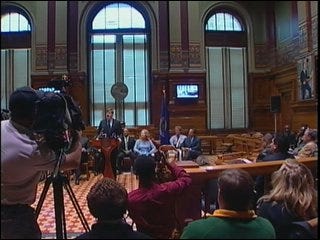 PROVIDENCE, R.I. (AP) – Retiring Rep. Patrick Kennedy and other members of his family have paid tribute to his uncle, John Kennedy, on the eve of the 50th anniversary of his election as president.
Kennedy, emotional at times, was joined Sunday by his successor, Providence Mayor David Cicilline, his mother, Joan, and brother, Edward Kennedy Jr., in the tribute to JFK.
John Kennedy, as Massachusetts senator and Democratic presidential nominee, spoke on the steps of Providence City Hall the night before his 1960 election victory.
The congressman, also speaking at City Hall, said he will continue his advocacy for mental health issues and compared it with the civil rights movement.
Kennedy announced in February he would not seek a ninth term, shortly after the death of his father, Massachusetts Sen. Edward Kennedy.
(Copyright 2010 by The Associated Press. All Rights Reserved.)