Kent Hospital healthcare worker gives inside look into nationwide mask shortage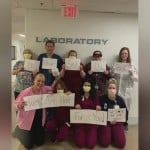 WARWICK, R.I. (WLNE): Nationwide shortages of vital protections for healthcare workers are leaving those on the front lines exposed. Kent Hospital, for example, is short on masks and is now forcing healthcare workers to re-use them, which they would never do on a typical day.
"I have my own N95 mask that I do have to re-use and we have shields that we put over our masks that we have to bleach down that we also have to share," Melanie Aubrey, a phlebotomist at Kent Hospital, said.
Aubrey said the N95 masks are only used in contaminated rooms and should not be used on multiple patients. However, because of nationwide shortages, she and other health care workers at Kent Hospital need to keep re-using them between patients.
Mask shortages involve more than just N95 masks. Aubrey said healthcare staff is required to wear cloth masks on the emergency room floor in Kent Hospital. Most staff use them on other floors as a precaution, according to Aubrey.
Aubrey has had to use the same N95 mask for several days at a time.
Despite nationwide shortages, Aubrey said she is extremely proud of the staff at Kent Hospital and the hard work and dedication during this time.
Governor Gina Raimondo has been urging businesses to donate N95 masks and other medical supplies.
Aubrey said these donations are extremely helpful.
Click here for a list of supplies needed and a donation form.