Kent Hospital union employees holding "informational picket" in Warwick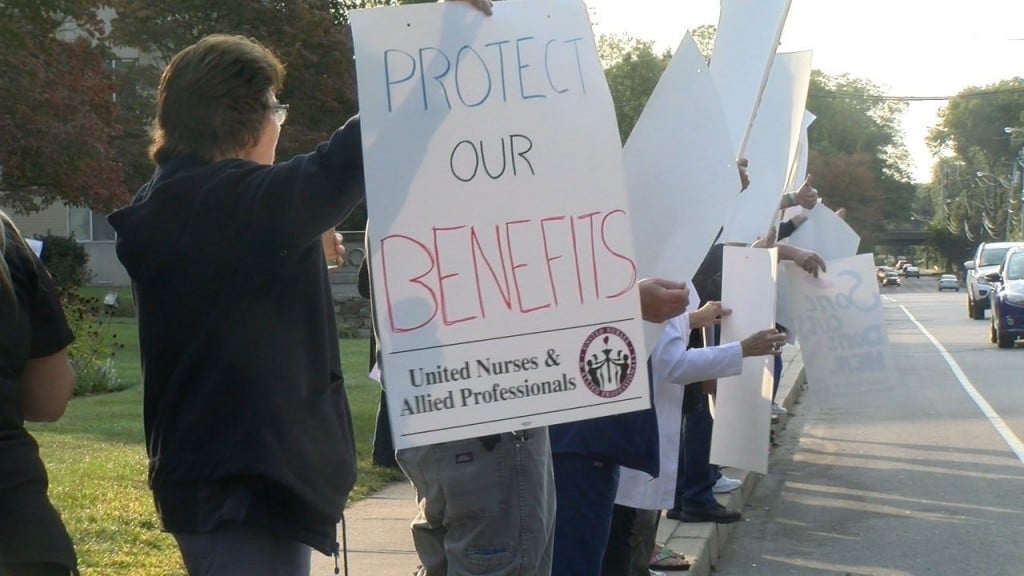 By John Krinjak
Email: jkrinjak@abc6.com
Twitter: @johnkrinjakABC6WARWICK, R.I. (WLNE) — Union employees at Kent Hospital are hitting the picket lines–but they're not officially on strike.
They want the public and the hospital's parent company, Care New England, to take notice.
"Hoping that the community will support us and see what we're trying to do and try to get back essentially to where we were. We're not asking for anything extraordinary," said respiratory therapist Doreen Walsh.
The union wants to see their 400 new members be given a pay and benefits contract comparable to the one the 800 other members are working under.
They're also opposing expected cuts to benefits, pensions, vacation time and raises, when the existing contract expires in June.
"I think they have to stop going after the little people and the benefits that we have. We work hard here. We work for our patients. And so when you try to take it from people that are already working so hard, it's just not right," said Local 5008 President Rosemarie Desnoyers.
"Everybody has to speak to a bottom line. We all understand that. But we all think that everybody should be raised up as much as they can," said Gail McKenna, a registered nurse.
These workers still remain on the job. Union leaders say it's premature to talk about what might happen if negotiations don't work out. They're still hoping to get what they call a fair contract.
In a statement Care New England spokesman Jim Beardsworth said:
Today's informational picket by members of the union is extremely disappointing and ignores the reality facing both Kent Hospital and Care New England. It is no secret we have been experiencing significant financial challenges but everyone has been working extremely hard to implement strategic action plans in an effort to increase volume, promote care retention and develop new strategies that will best help us serve the community.

Specific to the contract, the hospital is not asking for a greater contribution for health care benefits. We are seeking increased deductibles when an employee uses facilities outside the system network and a modest premium for continuing to have a spouse on the hospital plan when they have access to health insurance through their own employer. These offerings continue to represent industry standards or better.

Knowing how much is at stake, it would be helpful to know that the union is joining with us in a collaborative effort, rather than engaging in both intentionally distracting and single-minded actions which fail to fully appreciate and recognize both the challenges and opportunities before us.
© WLNE-TV / ABC6 2017