King Phillip Mill poses threat in Fall River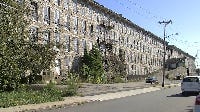 Nicole Gerber
ngerber@abc6.com
@nicolegerber
FALL RIVER – An abandoned mill in Fall River is sparking a lot of anxiety among families
who live in the area.
Some are calling it a disaster waiting to happen.
The old King Phillip Mill Complex has no sprinklers, no
alarm, and just last week, the city learned it's filled with barrels
containing unknown chemicals.
It's currently a hub for squatters and break–ins… last year it was even the site of an arson.
Neighbors are scared of the consequences if something like that were to happen again.
"Anything could happen if it's a windy day it could
blow right across the house… and you know not only one house will catch on
fire, who knows how many houses will catch fire," said John Raposo, who lives across the street from the mill.
"A fire that is fueled by wind… all of these homes
from Kilburn to South Main Street,
and to the north from Dwelly to Globe… would be at risk," said State Rep. Alan Silvia, who is also the President of the South End Neighborhood Association.
The building's current owner has moved out of the country.
He owes 600 thousand dollars in back taxes., that he has no intention of
paying. So within the next few months, the building will be acquired
by the city. But even then… the problems may not all be solved.
"This building is on the national historic register," said Michael Miozza, City Councilor and chair of the Public Safety Committee. "So we don't know, given that it's on the register, will we be able to demo the
building… so we've asked our city attorneys to look into that."
Security around the mill has been ramped up
until the city acquires it, and figures out exactly what they can do with it.
(C) – WLNE 2013