Kniffin Scores Hat Trick In Brown's Season Opening Win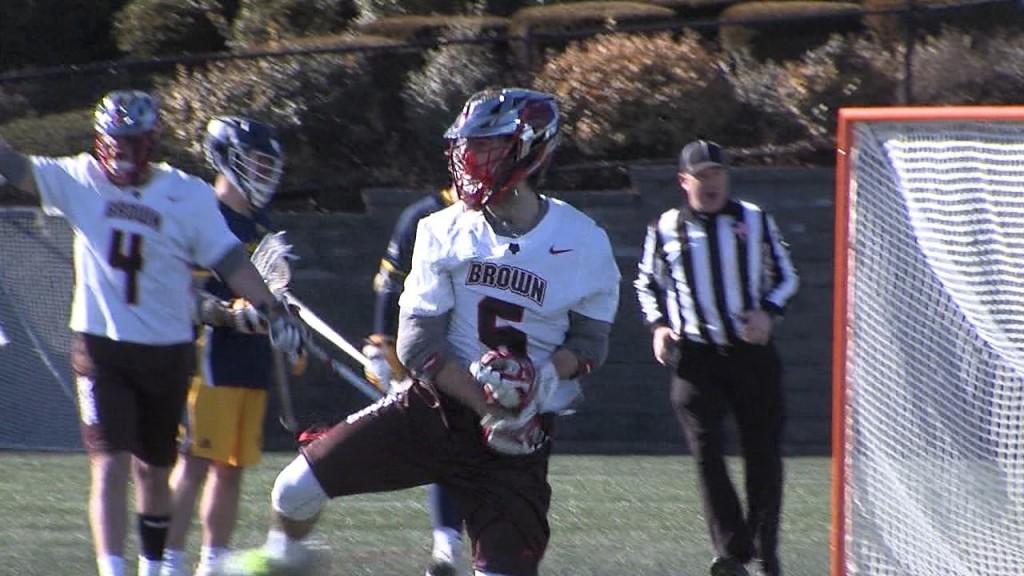 Brown senior Jack Kniffin (Darien, CT) scored all three of his goals in the second half to lead Brown (1-0) to a 11-7 season-opening win over Quinnipiac (0-3) Saturday afternoon at Stevenson-Pincince Field.
"That was a hard-fought battle today," said Brown head coach Mike Daly. "I thought their goalie and team played hard. I'm proud of our team that we keep battling and persevered for the win."
Kniffin's three goals came on five shots while also picking up five ground balls. Sophomore Darian Cook (Redding, CT) scored two goals and added two assists, and Ryan Aughavin (Glen Head, NY) added two goals for the Bears.
Brown All-American goalie Phil Goss (San Francisco, CA) was strong in net with 11 saves. Quinnipiac goalie Nick DiMaccio kept the Bobcats in the game with 21 saves. The Bears out-shot Quinnipiac by a 60-33 margin.
In the face-off x, Brown got some good production from freshman Matt Gunty (Bethesda, MD), who won 9-of-12 face-offs. Brown also had a 34-20 advantage in ground balls behind Kniffin and junior Adrian Echill (Pittsfield, MA) with five each.
With Quinnipiac playing its third game of the season and Brown playing its first, the Bears fell behind, 2-1, after one quarter with junior George Grell (Short Hills, NJ) scoring Brown's first goal of the season.
The Bobcats opened up a 3-1 advantage early in the second quarter, but the Bears battled back to tie the game, 4-4, after goals by senior Luke McCaleb (Chevy Chase, MD), Cook and sophomore Reed Moshyedi (Potomac, MD) with 4:32 left in the half to make it an even game at intermission.
Brown came storming out of the locker room and exploded for four straight goals to open the second half with Aughavin igniting the rally followed by Cook's goal, sandwiched around two goals by two goals by Kniffin for an 8-4 lead.
Two Quinnipiac goals in the last 1:24 of the quarter cut Brown's lead to 8-6 after three quarters.
Jake Tellers scored for the Bobcats with 10:20 remaining to cut Brown's lead to 8-7, but Kniffin's goal at the 4:57 mark of the fourth quarter gave Brown some breathing room, 9-7. Aughavin and Riley Stewart (Darien, CT) scored in the final minute for the 11-7 final margin.
Brown hosts Sacred Heart on Tuesday, February 18 in the inaugural game played at the Center for Lacrosse and Soccer at Stevenson-Pincince Field. Face-off is 12:30 pm on ESPN+.