Kobe Great, Celtics Better in Green Game 5 Win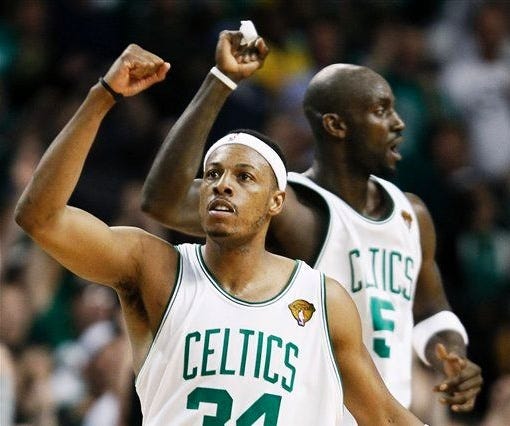 BOSTON (AP)—Paul Pierce is heading back to his hometown, and a second NBA championship could be waiting for him.
A Los Angeles native who has played his entire career with the rival Celtics, Pierce scored 27 points to help Boston withstand 38 points from Kobe Bryant to beat the Lakers 92-86 on Sunday night and move within one victory of an unprecedented 18th NBA title.
Other Popular Sports Stories
The Celtics lead the best-of-seven series 3-2. Game 6 is Tuesday night, and a victory then or in Game 7 in L.A. on Thursday would give Pierce the chance to celebrate in the city where he grew up.
"It's going to have to happen if we're going to win the title," Pierce said. "I mean, that would be great. I'm not going to try to jinx it right now. We've got to win one game; that's the goal. But it would be amazing if we get it done."
With the "Beat L.A!" chant reverberating through the TD Garden, Kevin Garnett scored 18 points with 10 rebounds and Rajon Rondo had 18 points, eight assists and five rebounds to help Boston become the first team in the series to win two games in a row. If Los Angeles can't do the same at home, the Celtics will improve to 10-2 against them in the finals, from a 4-0 sweep over the Minneapolis Lakers in 1959 through the Bird-and-Magic era of the '80s and Boston's win in '08.
But Bryant said neither the rivalry nor revenge should be motivating his teammates when they try to stave off elimination at home.
"Just man up and play. What the hell is the big deal?" he said. "If I have to say something to them, then we don't deserve to be champions. We're down 3-2: Go home, win one game, go into the next one. Simple as that."
Bryant was the MVP of the finals last year, when the Lakers beat the Orlando Magic to win their 15th championship. But Pierce earned the honor at his expense in '08, when the new Big Three beat the Lakers to raise an NBA-record 17th banner to the rafters at Boston's TD Garden.
Bryant outscored Pierce this time, but the Lakers' guard got little help from his teammates. And the stretch where he was most dominant was also the time when the Celtics pulled away.
"I wasn't in a personal duel," Pierce said. "I didn't notice that we were going back-and-forth scoring at the time. He's a tough player. He makes shots."
Lakers coach Phil Jackson defended Bryant's attempts to take over the offense.
"He's the kind of guy (where) you ride the hot hand, that's for sure," Jackson said. "We were waiting for him to do that. … He went out there and found a rhythm."
Bryant did everything he could to send the Lakers home with the edge.
He scored 23 straight Lakers points between the 4:23 mark of the second quarter until there was 2:16 left in the third. But over that span, the Celtics expanded the lead from one point to 13.
"I just tried to keep telling them, it's only 2 points each time he scores. It's not 10," Celtics coach Doc Rivers said. "It's just like if someone else was scoring. … I love that our guys for the most part, they understood what he was doing. But we defended everyone else. And I thought it was big."
And Pierce was having his best game of the series, too.
The Celtics' captain scored seven points in the last 3 1/2 minutes of the second quarter and added nine more in the first 5 minutes of the third. Ray Allen, who hasn't hit a 3-pointer since making an NBA-record eight in Game 2, made a pair of baskets that gave Boston a 71-58 lead with 3:08 left in the third.
Jackson, wearing a microphone for the TV broadcast, told his players during a late timeout, "This team loses more games in the fourth quarter than any team in the league. They know how to lose games, and they're showing us that now."
The Lakers got within six points several times, but never within five until Bryant made three free throws to make it 87-82 with 90 seconds left.
The Celtics got a break from a review when replays showed Allen's 3-pointer barely nicked the rim, giving them the ball with a fresh 24 seconds and 1:05 left. Rasheed Wallace(notes) missed a 3-pointer, but the rebound wound up tied up between the 6-foot-11 Garnett and 6-foot-1 Derek Fisher.
Fisher won the jump ball, tipping the ball ahead to Ron Artest(notes) for a breakaway; Pierce fouled him to keep him from scoring an easy layup, and he missed both free throws. Bryant grabbed the rebound, but Pierce ripped it out of his arms and dribbled off to the side to call timeout.
A desperate inbound pass went to Pierce, who fed Rondo under the basket before falling out of bounds, and Rondo made an over-the-head layup to make it 89-82 with 36 seconds left.
"I was just showing off my Randy Moss and my (Tom) Brady the whole play," Pierce said. "I was Randy when I caught it; then Brady on my pass to Rondo."
Bryant missed a series of desperation 3-pointers down the stretch, and when Allen made two free throws with 19 seconds left and Garnett one of two with 8.9 to play, it was over.
"He's the best shot-maker in the game. There's probably better athletes and all that, but there's no better shot-maker than Kobe Bryant," Rivers said. "You've just got to live with it and play through it."
Pau Gasol scored 12 points with 12 rebounds and Fisher, the Game 3 star, scored all nine of his points in the first quarter as no other Laker reached double figures in scoring until Gasol hit a free throw with 2:25 left. Andrew Bynum played on his sore right knee for 31 minutes, but he scored all six of his points and his only rebound in the first quarter.
(Copyright 2010 by The Associated Press. All Rights Reserved.)