Kris Dunn Named Big East Player of the Week for the First Time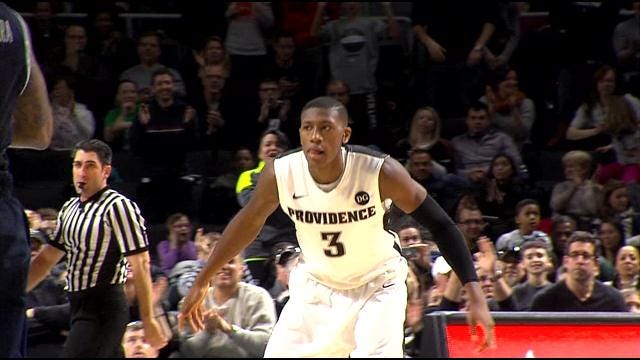 PC news release…
PROVIDENCE, R.I. – It was announced on Monday, January 12 that Providence sophomore guard Kris Dunn (New London, Conn.) was named BIG EAST Player of the Week. It marks the first time that Dunn has earned BIG EAST Player of the Week accolades.
Dunn has led the Friars to a 13-4 record (3-1 BIG EAST) by averaging 13.6 points, 5.4 rebounds, 7.4 assists and 2.6 steals. Last week, he paced the Friars to a 2-0 mark. Dunn averaged 20.5 points, 7.5 assists, 5.5 rebounds and 40.5 minutes in the two Friar wins. Dunn registered a career-high 25 points, including 20 in the second half to fuel the Friar comeback as they earned a 66-62 road win at Butler on January 6. He also had eight rebounds, six assists and two blocks. On January 10, Dunn registered 16 points, nine assists and three steals in the Friars' 60-57 overtime win over Georgetown. He again provided the heroics for the Friars, scoring eight of the team's 10 points in overtime to lead the squad to victory.
Dunn leads the BIG EAST in assists and steals. He also ranks fifth in the nation in assists and ninth in steals.
The Friars will return to action on Wednesday, January 14 when they host St. John's at 7:00 p.m. on Fox Sports 1.