La Salle Academy moves to distance learning after teacher receives false negative COVID results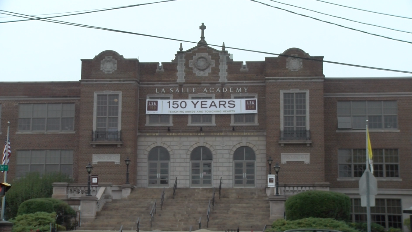 PROVIDENCE, R.I. (WLNE) – La Salle Academy is switching to distancing learning for the time being after a teacher tested positive for COVID-19.
According to La Salle Academy President Brother Dennis Malloy, that teacher got tested after they thought he was near a student who tested positive.
"Totally asymptomatic, feeling great," Brother Malloy said. "He got tested. The rapid test came back negative."
That teacher got the negative rapid results last Wednesday. He went back to class and then days later, on Monday, he got the call that his 24 hour test came back positive.
"Immediately we identified 10 faculty members that should probably be quarantined and that was a big hit out of the faculty," Brother Malloy said.
Brother Malloy says that led them to make the choice to move to distance learning.
That false negative test comes just days after a student at La Salle was notified 12 days too late by the Department of Health that she was supposed to quarantine.
"I can only imagine how overwhelmed they are trying to scale up to do all of this," Brother Malloy said. "I guess, things happen and we have to adjust just as everybody has to adjust. Because of all of the mitigation we do, it was easy for us to look back."
The school has in place several measures to stop the spread of the virus. Brother Malloy says because of those incidents, they've been working to identify the people who may have been exposed.
Students who walk into the building will go through an entry point thermal scanner. The camera will read their temperature and tell them if they're wearing a mask or not.
The hallways are also marked with arrows for social distancing and every room is equipped with QR codes that track student's paths for contact tracing.
"If there's somebody positive and we need to be able to track who were the students who were in a radius of that student or faculty member, we're able to pull that up quickly," Brother Malloy said.
He says he hopes these measures will get students back in the classroom as soon and safely as possible. The school will make the call on Friday whether or not to keep students in distance learning for longer or to resume their hybrid model of classes instead.