Labor Relations Board Holds Hearing On Gist Complaint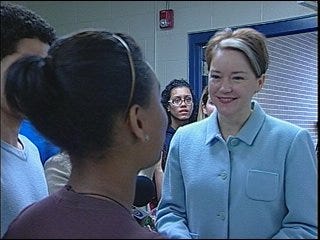 The state Labor Relations Board held a hearing Tuesday on a complaint against Education Commissioner Deborah Gist for an allegedly intimidating e-mail she sent to Education Department workers.
The board alleges Gist violated labor laws when she sent an e-mail on Feb. 19, 2010, after hearing some were planning on attending a rally to support teachers at Central Falls High School.
Gist fired the struggling school's entire staff in a move that drew national attention.
Gist said in her e-mail she would "not hesitate to take action" against department employees who "work to thwart" agency policy.
The labor board says the e-mail, while not threatening termination, created an atmosphere of "fear and intimidation" and "restrained" members in exercising their rights.
A spokesman for Gist withheld comment.