Lackey leads BoSox over Padres 4-1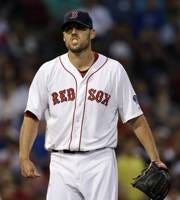 The Associated Press
Lackey leads BoSox over Padres 4-1
BOSTON (AP) _ Brandon Snyder hit a bases-loaded double and John Lackey struck out six over eight strong innings for the Boston Red Sox in a 4-1 win over the slumping San Diego Padres on Tuesday night.
Lackey (6-5) scattered six hits and walked just one while moving above .500 for the first time since late in 2011. Lackey has won four straight decisions and appears well-healed from the right biceps strain that put him on the disabled list after his first start.
The only run Lackey allowed was a solo homer by Jesus Guzman in the seventh.
Koji Uehara replaced Lackey in the ninth and struck out two to get his fifth save for the Red Sox, who improved to 6-1 during a nine-game homestand.