LaDontae Henton Reaches 2,000 Points as PC Beats Seton Hall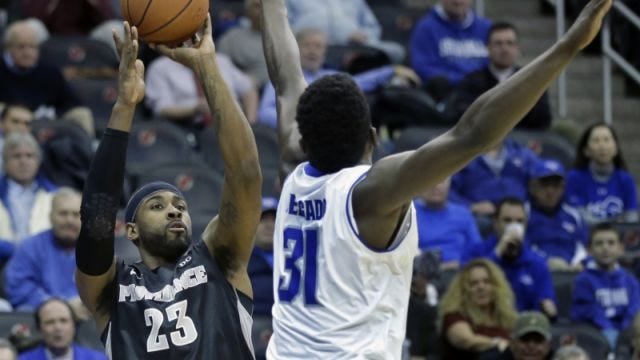 NEWARK, N.J. — Down by eight points after seeing his team shoot 26 percent in the second half, Providence coach Ed Cooley told point guard Kris Dunn to stop thinking and play, and the rest of the No. 24 Friars to pound the boards and play defense.
It was a plan that translated into the Friars' best half of the season.
Dunn scored all 17 of his points in the second half, freshman Ben Bentil had a career-high 21 points and 10 rebounds, LaDontae Henton added 21 points and Providence shot 67 percent from the field in the final 20 minutes in a 79-66 win over Seton Hall on Wednesday night.
"I thought our energy was great," Cooley said after the Friars (21-9, 11-6 Big East) won for the fourth time in five games.
"I thought our passion was even better and the spirit of the group. Once it gets going, it's hard to stop. That's probably the best we've played in a second half this year."
The statistics were phenomenal. The Friars hit their first six shots in the final 20 minutes and made 13 of their first 17 shots to turn an upset bid by the Pirates (16-13, 6-11) into a runaway.
"As a team we were upset at ourselves," Bentil said. "We knew we could play better than that. We realized we came out flat, so we had to pick it up, and we did."
Freshman Isaiah Whitehead and senior Brandon Mobley had 13 points apiece to lead Seton Hall, which lost for the 10th time in 13 games. Sterling Gibbs returned from a two-game suspension and added 11 points.
"It's a good learning lesson for these guys, understanding how good we can play and how bad we can play," Seton Hall coach Kevin Willard said.
If Providence beats No. 21 Butler in its regular-season finale on Saturday it will clinch the No. 2 seed in the conference tournament.
Dunn, Henton and Bentil led the second-half rally for Providence, which switched to a zone defense in slowing down Seton Hall.
"I give a lot of credit to their zone, they have a lot of long guys and they were able to key on me and Isaiah a bit.," Gibbs said. "They extended us."
Dunn got things going with a jumper, Henton hit a layup and a 3-point basket and Dunn hit a shot in the lane to give the Friars a 38-37 lead less than two minutes in the half.
Gibbs, who returned to the lineup after sitting out two games for a flagrant foul in a game against Villanova on Feb. 16, hit a 3-pointer and a floater and Angel Delgado converted a three-point play, the last play tying the game at 45 with 14:20 to go.
Dunn hit a shot in the lane 17 seconds later and ignited a 17-6 spurt that put Providence in control.
"My teammates and my coaches, they have a lot of confidence in me," said Dunn, who was 6 of 8 from the field in the second half after missing all five of his shots in the first half.
"They knew I was getting the shots that I wanted and they wanted me to keep shooting. My teammates did an unbelievable job of getting open. LaDontae and Ben, they were really rolling today. I just tried to find them."
Seton Hall played one of its best halves in a while in building a 37-29 halftime lead. The Pirates shot 54 percent from the field, making 6 of 12 from long range. The big run was a string of three straight 3-pointers with Gibbs hitting the first and senior Haralds Karlis making the final two. The outburst came early in a 16-2 spurt that gave Seton Hall a 36-21 lead.
The Friars struggled from the field, missing at least six shots in the lane while making only 1 of 6 from long range.
TIP-INS:
Providence: LaDontae Henton had 2,004 points and more than 1,000 rebounds in his career, becoming the second Providence player with those totals. Ryan Gomes was the first to do it, getting 2,138 points and 1,028 rebounds in a 116-game career that ended in 2005.
Seton Hall: Seton Hall finished its season at home with a 10-5 record, which included wins over Top 25 teams Villanova and St. John's.
FREE THROWS: Bentil made all 12 of his free throws and the Friars were 29 of 33 for the game. Seton Hall was 8 of 13.
UP NEXT:
Providence hosts No. 21 Butler on Saturday.
Seton Hall plays at Georgetown on Saturday.
Copyright by STATS LLC and The Associated Press