Landmark settlement reached to protect disabled Rhode Islanders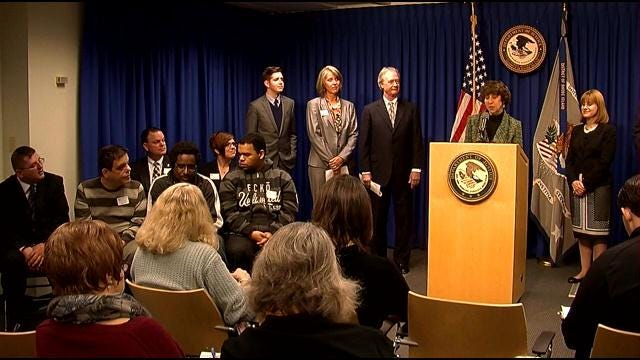 By: Alexandra Cowley
A landmark settlement between the Department of Justice and the state of Rhode Island promises new opportunity for more 3,200 people with intellectual and developmental disabilities. This after a federal investigation found dozens of disabled Rhode Islanders doing factory work for just cents.
50-year-old Steven Porcelli is on top of the world. He had his picture taken for the New York Times, because his story seems to stand out.
Angelo and Alice Porcelli couldn't be more proud of their son Steven. Because of the settlement reached between the state of Rhode Island and the Department of Justice, he now has a real job filing for a local business, earning minimum wage.
"Stevie changed our lives, Stevie made us happy from day one," said Angelo Porcelli.
Steven Porcelli says "I just feel great to be able to go to work everyday in the workforce."
Last year, a federal investigation revealed Rhode Island was violating the Americans with Disabilities Act. Dozens of workers at the Birch Vocational School in Providence and at TTP in North Providence, were making extremely low wages for doing things like packaging jewelry and sorting buttons. The pay ranged from a mere 14 cents to 2 dollars an hour.
Steven spent 30 years at TTP, never gaining the skills needed to land a better job.
Angelo Porcelli said, "it was the place where they had to go, they had no other place to go, so thank god they were rescued."
These segregated workshops are all across the country. They are home to 450 thousand people with intellectual and developmental disabilities. With this settlement, Rhode Island becomes the first state in the US to bring new opportunity to people like Steven.
Assistant District Attorney for The Department Of Justice, Jocelyn Samuels, says "The bottom line is that what the state has committed to is providing the services for individuals to merge from segregated workshops into the workplace."
Steven has been at his new job for 6 months and couldn't be happier.
"We've always been proud of him, always, but now it's just an extended proud," said his dad Angelo.
The ten year agreement holds Rhode Island accountable for these new services which Governor Chafee estimates will cost 800-thousand dollars. The Department of Justice will have someone monitoring these services to be sure they are meeting the settlement guidelines.
(C) WLNE-TV 2014