RI Congressman defends profiting from death benefits scheme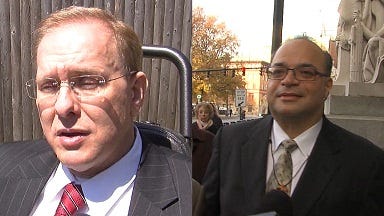 By: Alexandra Cowley
Congressman Langevin is dealing with more than the government shutdown these days. He's now trying to explain how he ended up making thousands of dollars from terminally ill patients, part of a scheme run by estate planner Joseph Caramadre.
Congressman Langevin is one of many public officials to appear on a list of investors with estate planner Joseph Caramadre. But Langevin says he loaned that money to a family member, not knowing what its purpose was.
Caramadre pleaded guilty last year to stealing the identities of terminally ill patients to collect on their death benefits.
Congressman Jim Langevin made a loan to a family member who invested with Caramadre and his scheme. When that family member re–paid the loan, Langevin was given an additional 8,600 dollars. Money that was described as a return on investment.
Langevin released this statement regarding the money:
"When I became more fully aware of Mr. Caramadre's business practices, I decided to donate the 8,600 dollars to charity. Since that time, neither I, nor any member of my family, have had any further association with Mr. Caramadre."
Caramadre made a campaign contribution to Langevin in 2009. Langevin says that was before any allegations of wrongdoing, and therefore, there are no plans to return that contribution.
(C) WLNE-TV 2013