Langevin endorses Magaziner to be his successor in Congress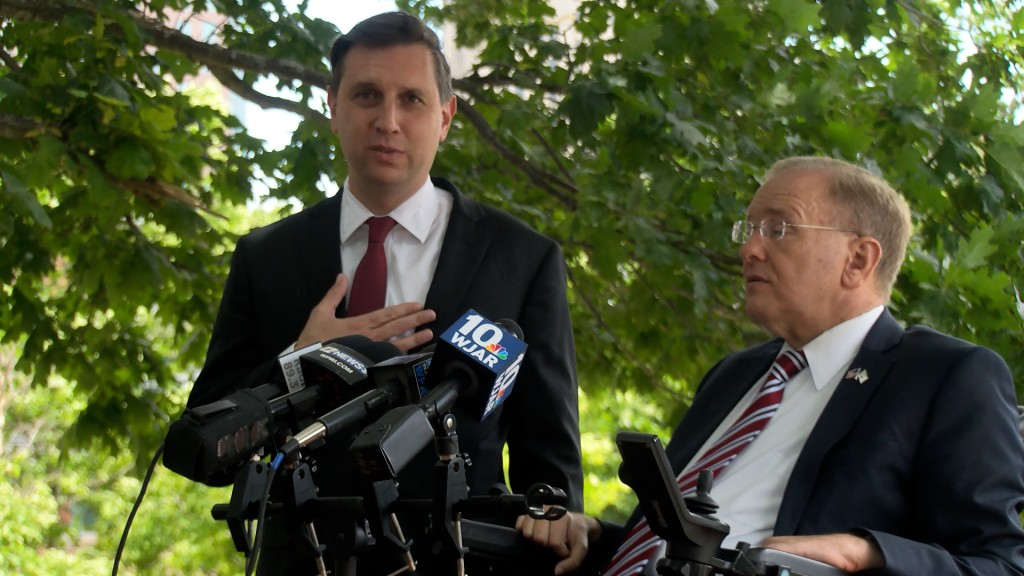 PROVIDENCE, R.I. (WLNE) — General Treasurer Seth Magaziner picked up a big endorsement Thursday in his bid to be the next District 2 congressman in Rhode Island.
Magaziner was endorsed by outgoing Congressman Jim Langevin at a news conference in Providence.
Langevin announced earlier this year he was not seeking re-election.
"I think he is the best candidate in the race to succeed me and to represent the people of Rhode Island in the United States Congress, so I want to continue the momentum that Seth has already created," said Langevin.
The endorsement garnered by the treasurer comes less than a week after the state Democratic Party endorsed him over a handful of candidates in the race.
Several of his Democratic primary opponents spoke out against the endorsement the sitting Congressman handed out.
"[I] believe more strongly than ever we need people representing us who, like me, have deep ties to our communities, not more professional politicians. I appreciate the Congressman's service, but obviously I find his decision disappointing," said candidate and former Langevin staffer Joy Fox.
"I don't think Mr. Magaziner is the right candidate to face-off against Allan Fung and I do not believe that the Congressman's endorsement will convince independents or undecided Democrats to vote for him," said Omar Bah.
I'm the best candidate to take on Allan Fung, and the only candidate with experience delivering results in Washington," said Sarah Morgenthau, touting her recent endorsement from Sen. Kirsten Gillibrand.
Langevin's endorsement comes days after a Suffolk/Boston Globe poll show Republican Allan Fung was leading all Democrats in the race to replace Langevin.
Other Democrats vying for the seat include David Segal, Cameron Moquin, Donald Keith and Spencer Dickinson.