LAPD Officer in Tyler Seddon video killed while on duty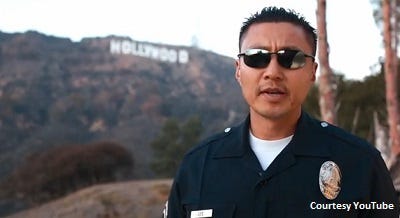 By Alana Cerrone
One of the LAPD Officers who wished Tyler Seddon a "Happy Birthday" in a YouTube video was killed in a traffic accident in Beverly Hills.
Hollywood Division Officer Nicholas Lee and his partner were responding to an incident Friday morning when a large truck lost control and hit their patrol car.
Officer Lee was pronounced dead at the scene. His partner was sent to the hospital but is expected to be OK.
Lee was a 16-year veteran of the Department, and leaves behind a wife and two young daughters.
© WLNE-TV 2014