Last minute shoppers flood malls for Christmas gifts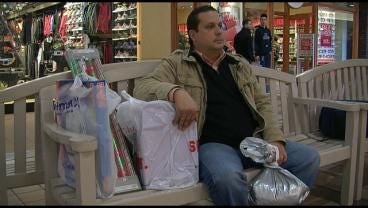 by James Swierzbin
SWANSEA, MA – Shoppers crammed into malls and stores on Sunday buying up last minute gifts for family and friends.
For many people last minute shopping is a yearly event, a trying exercise, that they just can't seem to escape.
"Last minute yeah. Always every year, never get it done right." said Swansea Mall shopper Jeff Martin.
Martin isn't alone.
Millions of Americans and hundreds of mall shoppers in Swansea are in the same boat as Martin, crossing off the last few items off their Christmas lists.
And although cash registers will be slammed for the next 2-days and people's arms will be overloaded by shopping bags, not all the Christmas gifts people want this season, can be bought.
"Peace on Earth. Happiness. Just all the wonderful things that life has to offer." said Denise Meikle.