John Zambarano Sentenced to 71 Months in Prison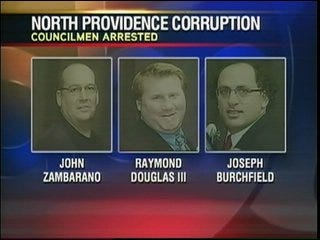 PROVIDENCE, R.I. (AP) – A former North Providence town councilman has been sentenced to just under six years in prison after pleading guilty to taking part in a bribery scheme.
John Zambarano was sentenced Tuesday in U.S. District Court in Providence.
Zambarano and two other ex-councilmen – Joseph Burchfield and Raymond Douglas III – have admitted to soliciting bribes from local businessmen in exchange for favorable votes on zoning and licensing changes. Zambarano has also pleaded guilty to a separate insurance fraud scheme.
Federal prosecutors had recommended Zambarano be sentenced to just under six years in prison. His attorney asked for a prison term of five years and four months, the sentence Burchfield
received Monday.
Douglas was sentenced Monday to 6 1/2 years in prison.
Copyright 2011 by The Associated Press. All Rights Reserved.
The US Attorney's Office is holding a press conference at 11:30am Tuesday to comment on the sentencings, and the investigation. We'll be there, and have an update on ABC6 News at 5PM.