Lawmakers hear from RI DOH doctors on COVID-19 response
Legislators on the House Health, Education, and Welfare Committee had lots of questions for the doctors Thursday night.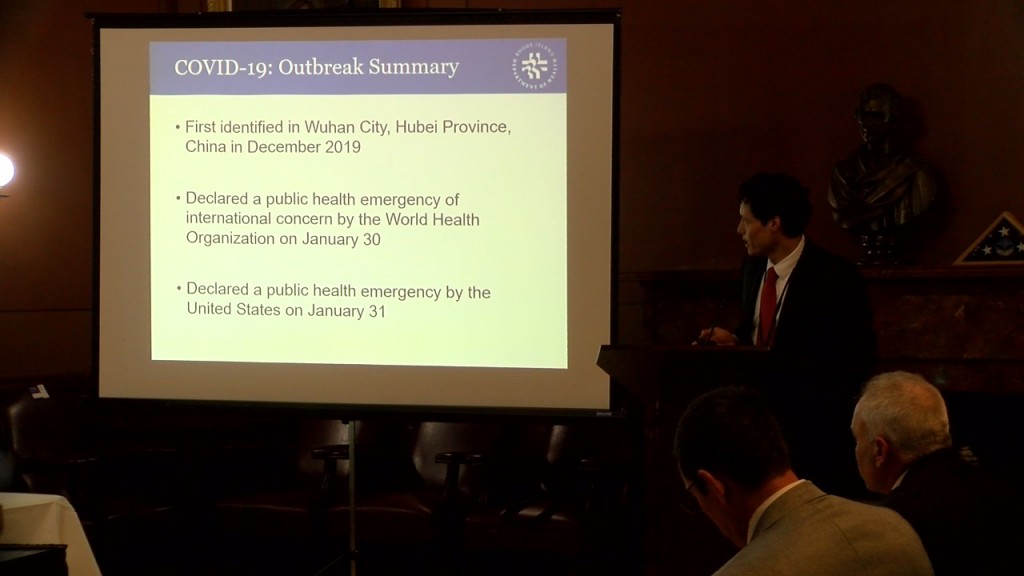 PROVIDENCE, R.I. (WLNE) –  Members of the General Assembly heard directly from the health department Thursday night regarding the state's response to COVID-19.
Legislators on the House Health, Education, and Welfare Committee had lots of questions for the doctors.
The questions ranged from possible travel restrictions, to whether or not it costs money to be tested.
Doctors from the department tried to put lawmakers at ease over the continued spread of the virus.
"We will get through this," said Dr. James McDonald. "This too shall pass."
Representatives say they've been getting constant questions from their constituents.
They quizzed the doctors on things during the briefing.
"If you have symptoms are you being tested?" asked Representative Gregg Amore.
"Should people be concerned about receiving packages from overseas?" asked Representative Dennis Canario
"Do we have enough COVID-19 tests available?" asked Representative Blake Filippi.
"We have plenty of COVID-19 testing kits available and more if we need them," answered Dr. McDonald.
Representative June Speakman asked if it costs to get tested, after an outlandish number started circulating on-line.
"Will people be billed if they've been tested? I've heard as much as $4000," Speakman asked.
"I need to put that rumor to rest right now," said McDonald. "The state health department lab has never charged anybody for any test."
They also discussed how as lawmakers they can protect themselves in their ever day work.
"The state house, where we are today, is probably the epicenter for handshaking," said Chairman of the House Health, Education, and Welfare Committee Joseph McNamara. "And I have seen within the past 48 hours an evolution fist pumps, elbow nods."
Doctor McDonald suggested that perhaps house and senate leaders consider a visitation policy to keep people away who are sick.
"This is the people's building, right? But is it okay to put out a policy that says if you're sick, level one, we don't want you to come? I think there's some deep, ethical questions about that," McDonald told lawmakers.
The doctors emphasized they are trying to prevent community spread here in the state so the healthcare system here is not overwhelmed like what happened in China.
Representative McNamara said after the briefing that he felt reassured by what the health department was doing, and hopes his constituents will feel the same.
(C) WLNE-TV/ABC6 2020