Legislators hear bill on banning the use of live animals in emergency medical training
Currently Brown University has the only program in New England that still uses live animals to train, according to the Physicians Committee for Responsible Medicine.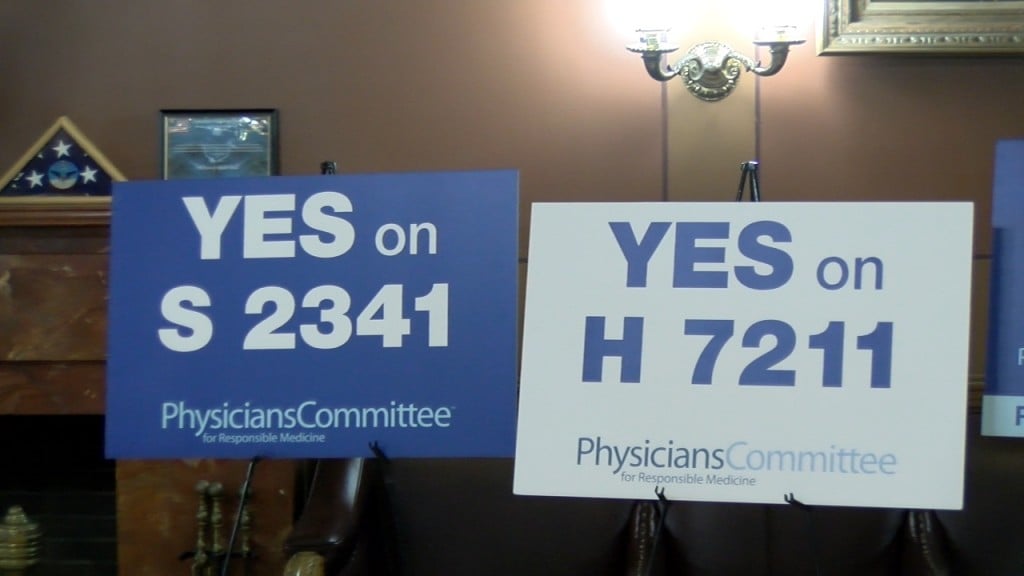 Twitter: @BComakABC6
PROVIDENCE, R.I. (WLNE) – Lawmakers on the House Judiciary Committee are considering a bill that would make it illegal to use animals in emergency medical training in the state of Rhode Island.
The reason legislators are taking on this issue is because the Brown University-Rhode Island hospital training program is the only program left in New England using live pigs to train medical residents, according to the Physicians Committee for Responsible Medicine.
Brown University doctors testified during Wednesday's hearing that they believe it's the best possible training for future doctors, but opponents say it's inhumane
For the second year in a row Representative Joseph Solomon is introducing the legislation.
"Massachusetts General Hospital, Beth Israel Deaconess Medical Center, Boston University, The University of Connecticut, and Yale, have all replaced animals in their emergency medical programs," said Solomon at a press conference before the bill's hearing Wednesday night.
That data comes from surveys of residency programs by the Physicians Committee for Responsible Medicine.
The data also indicates that Brown University is one of only a few programs in the country still using live animals to train.
"Medicine has changed, and it's time for Brown and for Rhode Island Hospital to catch up," said Dr. Kerry Foley.
Foley testified Wednesday night that most programs have moved on to more humane practices, and are using simulators instead.
"There is nothing that a physician can learn from practicing on animals that he or she cannot learn on a simulator," said Foley.
But doctors who have gone through the program at Brown, and who currently work at the university, say that's not true.
"Were it not for this training, I do not believe that I would have had the skill to perform that procedure when I needed," said Dr. Scott Pasichow, who now works at Rhode Island Hospital.
According to the doctors, they use the pigs to teach a specific operation to open a blocked airway, that they say cannot be replicated.
"If it was your brother or sister, or your mother or father who had to come in and get this procedure done, would you want the physician who's doing it be the one who does it for the very first time on a human being, on live tissue? Or you want that provider to only have practiced on plastic and rubber?" said Dr. Nick Musisca, the Assistant Program Director for the Brown Emergency Medicine Residency Program.
The doctors also testified that the pigs are treated humanely and have a team of veterinarians looking after them.
The bill was held for further study, but sponsors are confident it will make it out of committee this year.
©WLNE-TV/ABC6 2019