Legislators react to 38 Studios documents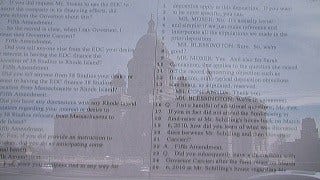 By Samantha Fenlon
sfenlon@abc6.com
Rhode Island state legislators are scouring through the newly released thousands of pages of 38 Studios documents trying to get a better understanding for themselves of how the failed $75 million deal came to be and what went wrong.
One of the new pieces of information several lawmakers tell us they find particularly troubling is the role that former House Finance Committee Chairman Steven Costantino and former Speaker Gordon Fox are accused of having in manipulating the funds to make the video game deal possible.
"How can they keep something like that so close to the vest and how can we move forward assuming they did not have malicious intent?" said State Rep. Michael Chippendale.
That's one of many questions the House Oversight Committee wants to see answered in the upcoming hearings they plan to host.
"We want to continue to fill in the time line of who knew what and when they knew it," said House Oversight Committee Chairwoman Karen MacBeth. "We're hoping to find solutions for all of us to put in legislation or to put in safeguards to make sure this doesn't happen."
Over on the senate side, lawmakers are planning to hold their own hearings.
The Chairman of the Senate Committee on Government Oversight, James Sheehan, telling us he's outraged with how the deal went down.
"I felt as if the General Assembly members rank and file essentially were duped," said Sheehan.
© WLNE-TV 2015