Legislators Take Up Same-Sex Marriage at State House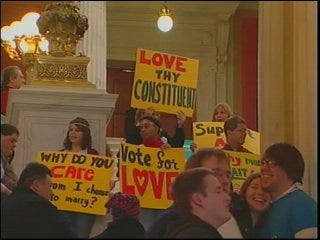 Rhode Island legislators have once again taken up the same-sex marriage debate on Smith Hill.
They'll be hearing a new bill that would legalize same-sex marriage in the Ocean State – Maine is the only other New England state that has not legalized it.
Previous attempts to legalize it have been shot down by former governor Don Carcieri, but now that Lincoln Chafee has taken office and has publicly stated his support for legalization, it stands a much better chance of passing.
Hearings on the proposed legislation began earlier this afternoon as supporters and opponents alike held rallies on the State House grounds.
ABC6 also caught up with a Rhode Island mother who hopes that a same-sex marriage bill passes so that her daughter can find happiness in marriage too.
ABC6 Reporter Erin Logan has the details from Providence.