Students Take Part in Lego Robotics Competition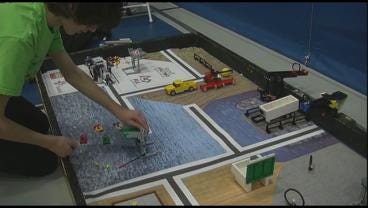 Roughly 500 elementary and middle school students descended on Roger Williams University today for the 11th annual Lego Robotics Competition.
Students have five months to build and operate a lego robot. Once the competition begins, they are given missions where they have to make the robot do something by programming a computer chip.
"We've been working on our robot since September," Soli Saqib said. "It seems like quite a long time, but when you start working on it, time kind of slips away."
Saqib is a member of the Hyper Green Oreos, a robotics team based in Lincoln, RI.
"In the round, they have a set number of missions and you have to program your robot to go around and do them all," James Gravier, another member of the Hyper Green Oreos said. "So what we do is program it to do the missions, run it through the missions and then we earn points."
The first place trophy went to a robotics team from All Saints Academy in Middletown, RI. All of the members of the winning team received a $5,000 scholarship to Roger Williams University.