Lester dominates Yanks as BoSox stay hot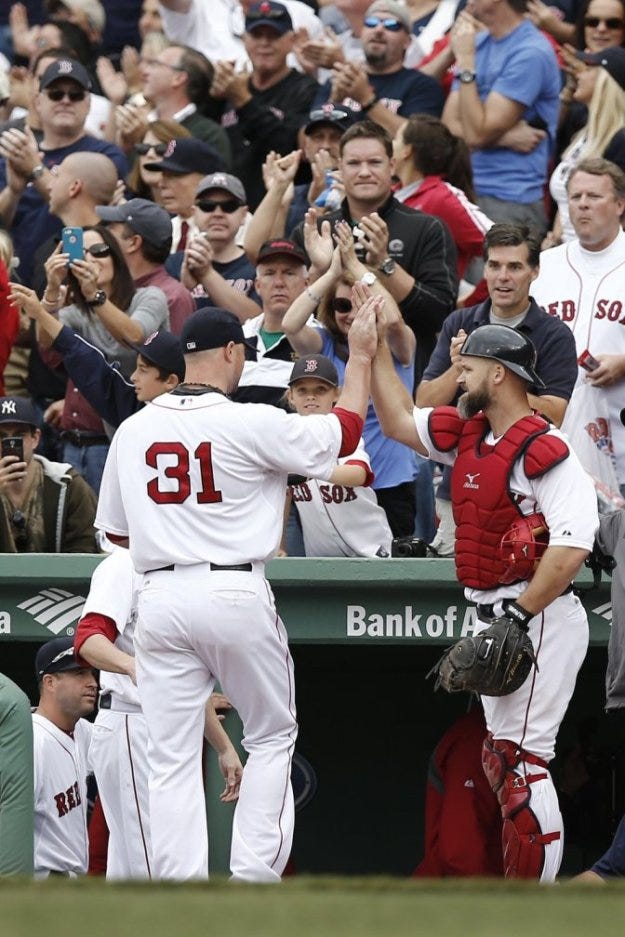 The Associated Press
BOSTON (AP) — Jon Lester is proving he's Boston's ace again.
Lester pitched eight dominant innings, and the AL East-leading Red Sox dealt the New York Yankees' wild-card hopes another blow with a 5-1 win on Saturday.
The 29-year old left-hander is 6-3 since mid-July with a 2.52 ERA in 12 starts after a rough stretch midway through the season.
''What
he's done since the All Star break has been consistent with how he's
started the season,'' Red Sox manager John Farrell said. ''A well
above-average pitcher, a front-line starter and that's what Jon Lester
is.''
Lester (14-8) was solid from the start, mixing a sharp
cutter with a well-spotted, mid-90s fastball. He allowed one run and
three hits, striking out five and walking two for his fourth win in six
starts.
Midway through the season, he went 0-4 in six starts with a 7.20 ERA.
''I
knew after what I went through at the middle of the year that it's just
a matter of time and things will take care of itself,'' he said. ''I
think anytime you take someone that's had some success, your confidence
is high. When you struggle, that kind of varies from certain starts.''
Mike Napoli, Jonny Gomes
and Shane Victorino each had two hits as the surging Red Sox won for
the 16th time in 19 games, and beat the Yankees for the fifth time in
six meetings in just over a week.
Napoli, in his first season with the Red Sox, has seen the best of Lester from the opposite side.
''I
remember facing him when he had his changeup, it's tough because he'd
throw that cutter in on your hands and a changeup strike when he's just
pounding you inside all the time,'' he said. ''He's been doing great.
You can see he's confident out there. He's just getting the ball and
throwing.''
The Yankees lost their second straight after a
three-game winning streak and fell 2 1/2 games behind Tampa Bay for the
AL's second wild-card spot. The Rays play at Minnesota on Saturday
night.
''You have to find a way to get it done is the bottom
line,'' New York manager Joe Girardi said of facing Lester. ''He's been
throwing the ball well. He threw it well against us last time and he did
it again today, but you've still got to find a way.''
Boston entered the day with an 8 1/2-game lead over second-place Tampa Bay.
The
Red Sox (91-59) improved to a season-high 32 games over .500, their
best mark since the final day of their World Series championship season
in 2004.
Franklin Morales worked a perfect ninth.
For the second time in week, Boston goes for a
sweep against New York. Last weekend, the Red Sox won the initial three
of a four-game set at Yankee Stadium but lost the finale.
The Red Sox built a 5-1 lead against CC Sabathia (13-13) after five innings.
''I
felt like I was behind everybody and got into some tough counts,''
Sabathia said. ''With a team like they have, when you get behind and in a
hitter's count, you're going to give up some hard-hit balls.''
Will
Middlebrooks' run-scoring grounder gave Boston a 1-0 edge in the
second. Napoli singled before moving up on a walk and sacrifice.
In
the third, David Ortiz had an RBI double and Gomes added a run-scoring
single. Sabathia then fanned the next two hitters with runners on first
and third.
Lester
breezed through the first nine batters, holding the Yankees hitless
before Curtis Granderson tripled off the center field wall leading off
the fourth. He scored on Robinson Cano's bouncer to first to make it
3-1. But Victorino had a two-out RBI single in the bottom half.
Sabathia
went six innings, allowing five runs on nine hits, walking four and
striking out five. He's 4-6 with a 6.48 ERA in his last three seasons
against the Red Sox.
Daniel Nava's sacrifice fly increased it to it 5-1.
NOTES:
Yankees OF Alfonso Soriano was a late scratch with a sprained right
thumb and is listed as day to day. He was scheduled to bat cleanup, so Alex Rodriguez
was dropped from second to fourth and Vernon Wells moved from right
field to left. Ichiro Suzuki, who was not scheduled to be in the lineup,
was inserted in right and batted eighth. ''It was bothering him
yesterday, but it got worse today,'' Girardi said. … The Yankees
activated RHP David Phelps (strained right forearm) from the 60-day DL and moved Derek Jeter
(sore left ankle) to the 60-day DL before the game. ''Probably a
one-inning guy, not much longer,'' Girardi said of Phelps' role. ''He
didn't really get a chance to build up (his arm strength) to be a long
guy.'' … Farrell said LHP Felix Doubront will throw a side session
Sunday, a simulated game Tuesday and ''likely in the Toronto series
(next weekend) in a starting role.'' Farrell also said Doubront hasn't
been used due to ''fatigue.'' … Ivan Nova (8-4, 3.17 ERA) goes for the
Yankees in the series finale against Clay Buchholz (10-0, 1.61 ERA) on
Sunday night. Buchholz will be making his second start since coming off
the DL. He was out since early June with a strained neck. … Boston
improved to 12-6 against New York.