Lester Gets Sox Starting Call for Opening Day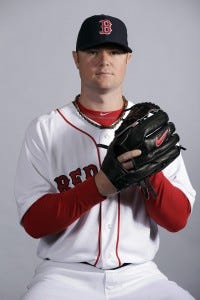 Jon Lester to start Red Sox opener at Baltimore
FORT MYERS, Fla. (AP) _ Jon Lester has been picked to start on opening day for the Boston Red Sox.
Boston manager John Farrell announced Thursday that Lester will pitch Monday in Baltimore against the Orioles. The news came as no surprise, but Farrell had waited to make an announcement.
It will be Lester's fourth consecutive opening day start, the fifth-longest streak in team history behind Pedro Martinez (seven), Roger Clemens (seven), Dennis Eckersley (five) and Cy Young (five).
Lester went 15-8 with a 3.75 ERA in 33 starts and 213 1-3 innings last year, helping the Red Sox to their third World Series championship in 10 years. The 30-year-old left-hander is 100-56 with a 3.76 ERA in eight seasons with Boston.
AP-WF-03-28-14 0211GMT