Libyans celebrate death of Gadhafi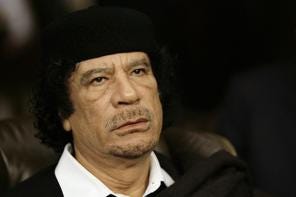 SIRTE, Libya (AP) – There have been celebrations today in the Libyan capital of Tripoli and the southern city of Misrata, after the death of ousted leader Moammar Gadhafi.
His body was carried through the streets of Misrata before a large, chanting crowd, after Gadhafi was killed in his nearby hometown of Sirte (sert.)
One of Gadhafi's most powerful sons was also reported killed, and another is hospitalized.
France's defense chief says French warplanes carrying out NATO airstrikes were the ones that stopped a convoy carrying Gadhafi and others trying to escape his hometown today as it was finally overrun by revolutionary fighters.
A spokesman for a local military council says fighters then surrounded the convoy and exchanged fire with several of the vehicles, before finding Gadhafi, wounded in the neck. He says
Gadhafi bled to death from his wounds a half-hour later.
Video confirms that Gadhafi was captured wounded but alive. He's seen surrounded by fighters, in a blood-soaked shirt, with his face bloodied. The fighters push him onto the hood of a pickup truck, and then drag him away, apparently toward an ambulance.
A short time later, he was dead. Later footage shows fighters rolling Gadhafi's body over on the pavement, stripped to the waist, with his head bloody.