Life in prison for man who killed Woonsocket gas station manager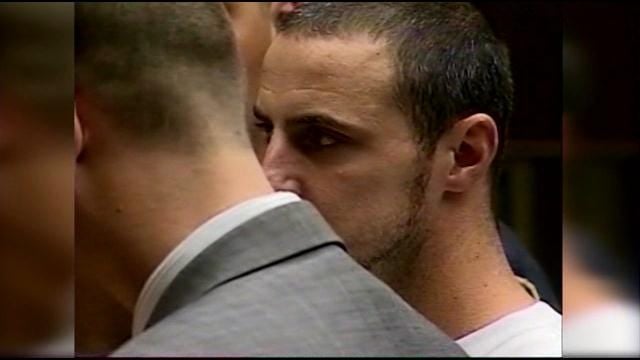 By: Melissa Randall
Twitter: @MelissaARandall
A Rhode Island man was sentenced Friday in a case that's been at the center of a debate over the death penalty. Jason Pleau will serve life in prison without parole. He waived his right to an appeal.
Pleau, a career criminal, robbed Woonsocket gas station manager, David Main, outside a bank on Diamond Hill Road in 2010. Main was depositing money from the Shell station when Pleau shot and killed him. Pleau, and two others, got away with $12, 542.
The case gained national attention when Governor, Lincoln Chafee, fought unsuccessfully to keep Pleau out of federal custody. Rhode Island does not carry the death penalty. Pleau changed his plea to guilty to avoid capitol punishment.
The Providence courtroom was packed with Main's family, friends, and loved ones during the sentencing. His wife, Kathy, was visibly shaking as she told the judge about the day she met her husband, their life together, and what it's been like without him. Their son, was a senior in high school at the time of the murder. He is now attending college in Boston.
Main's family described him as a family man who worked hard. He enjoyed golf and fishing. "Everything he did, he did for us," Kathy Main told the judge.
Two letters were read from Main's sisters as well.
"I miss Dave more than ever. I have drams sometimes that he is alive, and I wake up sobbing. I will miss him for the rest of my life," wrote Deborah (Main) Smith.
Pleau had intended on reading his statement before the court, but during the proceedings decided to have his attorney, David Hoose, do it. The letter reads:
"I appreciate being given the opportunity to speak today by you, your honor, by the AUSAs, and more importantly by the Main family. I know today isn't about me, and that nothing I say really matters, because I can't bring back David Main. I understand that his loss has caused a tremendous amount of suffering to his family and friends. I definitely regret my actions, an even though my words may not mean much to anyone today, I hope someday my apology can be accepted. I'm truly sorry for what I have done to the Main family and the pain I have personally caused them. I can only hope that today brings them some closure and allows the opportunity to begin to heal.''
"Mr. Pleau will never walk the streets again. He will serve a prison of life without parole. Not here in Rhode Island, but some prison, far, far away. And he'll have, I suspect, plenty of time to reflect on the damage that he wrought," said Peter Neronha, US Attorney General of RI, outside of court.
Representatives from the Woonsocket Police Department and the Rhode Island State Police were also present during the sentencing.
Two other people, Jose Santiago, and Kelley Lajoie, played a role in the crime. They will be sentenced at a later date.
© WLNE-TV 2013