2nd Winning PowerBall Ticket Sold In Rhode Island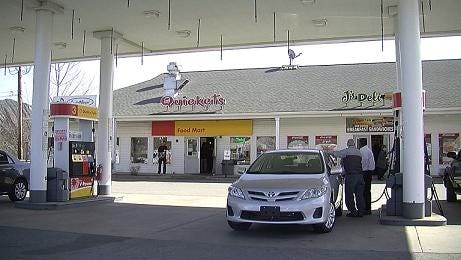 Lightning strikes twice in Rhode Island. A second PowerBall winner in less than a month. The winning ticket this time was sold at a convenience store in Smithfield, making someone 60 million dollars richer.
Everyone is saying Rhode Island should be named the lucky state, now that we've had two winning PowerBall tickets sold here. Whoever bought the ticket pulled into the Shell gas station on George Washington Highway around 4:30pm Wednesday, walked into the Quickets convenience store, and purchased five quick pick tickets for 10 dollars. Whoever it was, is now 60 million dollars richer.
The rumors of who held the 336 million dollar PowerBall ticket sold in Newport last month, were put to rest on Tuesday. When 81-year-old Louise White said just a few sweet words at a press conference to claim her winnings.
"I'm very happy and I am very proud, and this will make my family very happy. We are truly blessed, thank you, " said White.
Just as we all thought White was where the luck ended, two days later were back in the very same room for another press conference. This time, someone bought a 60 million dollar winning ticket.
Executive Director of The Rhode Island Lottery, Gerald Aubin, says he doesn't know what the odds are of having another winning ticket sold in Rhode Island.
"This is quite exciting and quite unusual, I think I'm going to have to ask the assistance of some mathematicians in our state to really figure out what the odds are of having a winner so close," smiled Aubin.
The clerk who sold the tickets, Alvaro Suruy, says he can't remember who bought the five quick pick tickets Wednesday. In his four years as a clerk at Quickets, he's only sold two tickets worth five dollars in winnings.
Suruy says, "It feels good, but I don't know, good for the guy who won it I guess."
Regulars at the store say they can't believe it.
Michael Lavallee said, "It's amazing, really unbelievable."
"Let's make it three, I'm buying a ticket right now," said George Baldino.
If the winner, whoever it is, is anything like Louise White, he or she will keep up waiting weeks before coming forward.
If the winner decides to claim the 60 million in cash up front, they'll walk away with 37 million dollars. Louise White walked away with 210 million.
In total Rhode Island will get roughly 17 million dollars in taxes from the winnings.