UPDATED: Limo Company Targeted by Police Drug Raid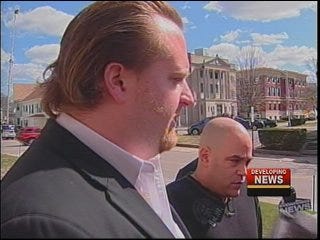 UPDATE: Two of the three men arrested Thursday in a North Attleboro drug bust appeared in court today, and had plenty to say to the media.
Police say they seized hundreds of marijuana plants as part of an ongoing investigation but did not say where specifically the plants were found. The two men were charged with possession of marijuana with intent to distribute and conspiracy to violate drug laws.
The third suspect did not appear in court.
The President and Vice President of Celebrity Limousine, Brandon Braddock and Johnathan Coombs, told waiting media outside of court that they were falsely accused. Braddock says that Coombs is a licensed medical marijuana patient in Rhode Island who used marijuana to cope with back problems.
The Bristol County District Attorney's office tells ABC6 that there will be a formal press conference on the investigation on Monday.
ABC6 Reporter Malini Basu has more from North Attleboro.
***
A limousine company in North Attleboro was raided by state and local police today, although officials are not commenting on the specifics of the case.
Bristol County District Attorney Sam Sutter's office confirms that there were several arrests as part of a drug investigation, but refused to release much other information. Several boxes of evidence were removed from the offices and carried off by law enforcement officers.
One customer tells ABC6 that he had just put $300 down to do business with the company, and when he went to the nearby police station to ask what had happened, all they could tell him was that the investigation was "pretty large."
ABC6 Reporter Erin Logan has the story from North Attleboro.