Lincoln Comes Up Short of LL World Series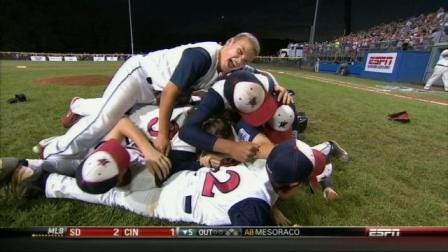 The Associated Press
BRISTOL, Conn. (AP) _ Chad Knight pitched a one-hitter, struck out 14 batters and drove in the only run Saturday as Westport defeated Lincoln, R.I. 1-0 to win the Little League New England regional championship.
The Connecticut team advances to the Little League World Series and will meet Southeast champion South Nashville, Tenn., on Aug. 15 in Williamsport, Pa. Knight had at least two strikeouts in each inning, fanning six straight batters during one stretch.
He and Lincoln starter Dominic Cunha each had nine strikeouts though four innings. But Cunha departed after reaching the mandated 85-pitch limit in the fifth.
With the bases loaded and one out in that inning, Knight hit a grounder to third baseman Zarek Larisa, who had to settle for a force out there, allowing Ricky Offenberg to score.