Lincoln's Vygoder, Mt. Pleasant's Mallay Named 2019-2020 RIIL Student-Athletes of the Year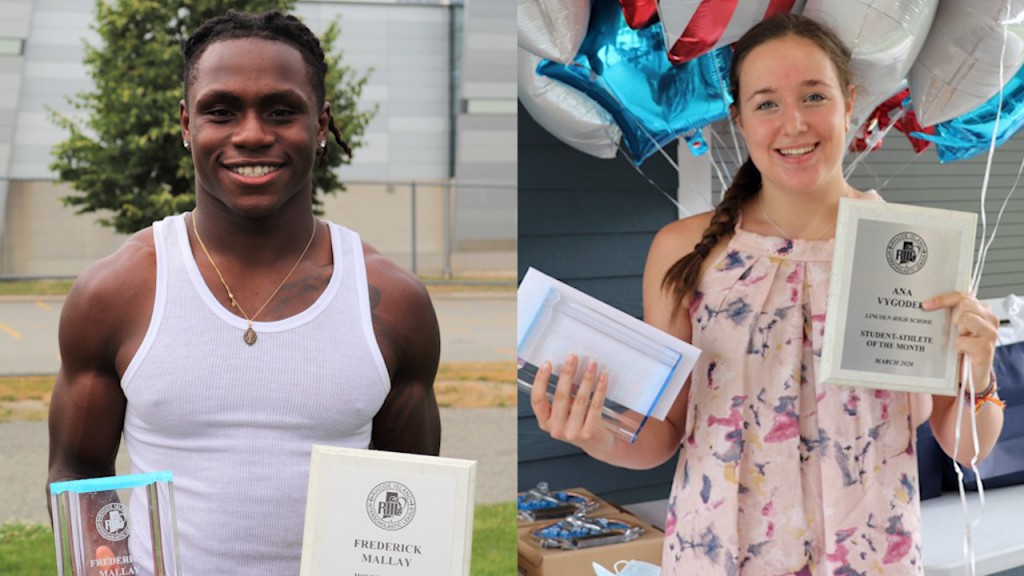 Rhode Island Interscholastic League Press Release
WARWICK, R.I. (July 1, 2020) – The Rhode Island Interscholastic League is pleased to announce that Frederick Mallay of Mt. Pleasant High School and Ana Vygoder of Lincoln High School have been selected as the 2019-20 RIIL Student-Athletes of the Year.
The Honorable Monsignor Robert Newbold Scholarship Award winners are typically announced during the annual RIIL Awards Luncheon. However, with the luncheon cancelled due to the COVID-19 pandemic, the RIIL paid surprise visits to Mallay and Vygoder this week to inform them they had been chosen.
The RIIL Student-Athlete of the Month program recognizes the outstanding efforts of student-athletes in Rhode Island high school athletic programs who excel in the classroom and during competition, participate in multiple school sponsored sports and demonstrate good citizenship in their school and community.
First selected as the RIIL Male Student-Athlete of the Month for October, Mallay graduated with honors from Mt. Pleasant High School in June, where he competed in football and track for the Kilties and established himself among the best in the state in both. Leading the state in rushing yards, touchdowns and yards per carry last fall, he led Mt. Pleasant to an appearance in the 2019 Division II Super Bowl. Several months later, Mallay helped the track team to a third-place team finish at the 2020 RIIL Indoor State Championships, running a leg of the Kilties' winning 4×200-meter dash, placing third in the 300-meter dash and sixth in the 55-meter dash. In addition, he was a member of the Mt. Pleasant chorus for three years, as well as a member of the math team and was involved in student government. Mallay will continue his academic and athletic career at the University of Rhode Island, where he has received a full football scholarship.
Selected as the RIIL Female Student-Athlete of the Month for March, Vygoder competed for the girls volleyball, girls swim and boys tennis teams at Lincoln High School. Last fall she earned All-Division honors in her first year playing for the volleyball team, then helped the swim team win the Division II Championship as a member of the Lions' fourth-place 200 medley relay team and second-place 200 freestyle relay team. The team captain also helped Lincoln to a fourth-place finish at the State Swim Meet. Before the cancellation of the spring sports season, she was set to be a big contributor on the boys tennis team at No. 1 doubles, compiling a career doubles record of 24-3. A member of the National Honor Society, Spanish Honor Society and Business Honor Society, while also interning with the Lincoln Police Department, Vygoder will attend Rhode Island College, where she plans to compete for both the swim team and tennis team and will double major in criminal justice and psychology.
Asked to share a piece of advice with other student-athletes around the state, Mallay and Vygoder had this to say:
"I got this advice, being a lucky man," Mallay said. "It's all about preparation, how you prepare yourself. Just going into every task at hand, make sure you have a plan, make sure you have a vision. And even if others don't see your vision, make sure you see it. As long as you see it and you know how to get there, just put in 100 percent effort and you can't fail."
"I would say don't worry as much. Just try to take it one day at a time," was Vygoder's advice. "Everything isn't the end of the world, even though it does [feel like it sometimes]. Just stick with the right people. You have a lot of great kids throughout the state that are there for you. The bonds, they're unbreakable, and if you ever have questions or need help, just ask your friends, ask your coaches. They're like a family. They would always help."
The RIIL also congratulates the following RIIL Student-Athlete of the Month selections who were recognized throughout the 2019-20 school year:
            September: Nathan Silveira, Mt. Hope HS, and Berenice Saucedo, West Warwick HS.
            October: Frederick Mallay, Mt. Pleasant HS, and Brianna Andrade, Shea HS.
November: Rocco Cillino, Westerly HS, and Marianna May, Rogers HS.
December: Kyle Moison, Lincoln HS, and Cheyenne Figueroa, Classical HS.
January:Cameron Erickson, North Providence HS, and Charlotte Simmons, North Kingstown HS.
February:Theodore Simmons, North Kingstown HS, and Alaynah Rubio, Davies Career & Technical HS.
March:Mason Clarke, Coventry HS, and Ana Vygoder, Lincoln HS.
More information about the RIIL Student-Athlete of the Month program can be found at: https://www.riil.org/page/5349