Lobster numbers increase and prices decrease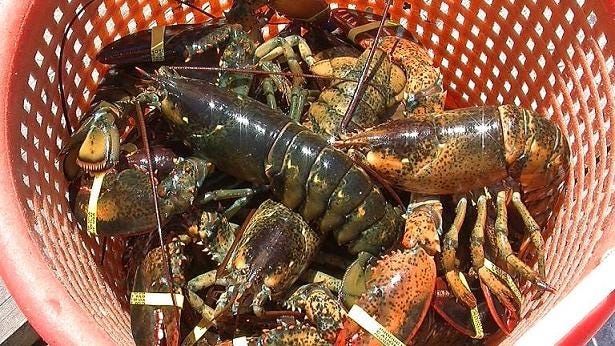 By Chelsea Priest
An overwhelming surplus of lobsters has made for a great season for local lobster men. Louis Fusco has been a local lobster man for 27 years, he says that "we haven't had a year this good in probably ten to twelve years."
But with the surplus in the amount of lobster they are catching, the price they can sell the lobsters at is going down. Last year, Fusco was selling his lobster for about $5.50 to $6.00 a pound. This year it is down to $4.50 to $5.00 a pound. He says, "it doesn't sound like much, but a dollar is a huge difference. When you are talking 1000 lobsters, that's 1000 dollars less that you're getting than you would have been getting."
Warmer ocean temperatures over the winter caused lobsters to molt earlier in the season. While you can buy lobster yourself for cheaper prices in some locations, you shouldn't expect deals at the restaurants. Owners of The Lobster Pot in Wareham explain the difference. "We have been hearing about all the lobster that's come in early this year, they are talking about the soft shell lobsters which is a completely different thing than the off-shore hard shell lobster." Joe and Guy Marino say that soft shell lobsters have about one ounce of meat in a one pound lobster, while hard shell lobsters have about three ounces of meat.
They say, "we're still paying a premium price, for a premium lobster. When you start seeing the specials, twin lobsters for cheap money, then you know what you're going to be getting, you'll be getting cheap lobster."
Despite the lower prices for lobster men, Fusco says he is still having a good season but if the prices drop any lower, that will be a problem.