Local cupcake shop serves sweet themed treats for Patriots fans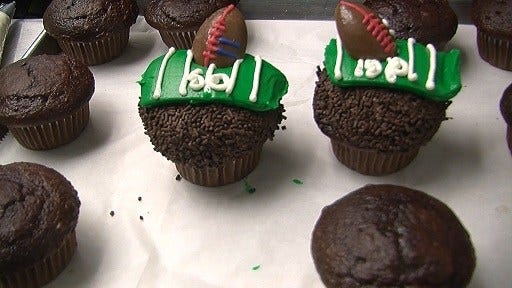 Rebecca Turco
Email: rturco@abc6.com
PAWTUCKET – A local cupcake shop is letting Patriots fans eat their hearts out with football-themed treats.
Diva's Sweet Treats Cupcakery in Pawtucket is making around 1,200 treats for game day, including cupcakes and cake pops.
There's also Sam Adams Cupcakes and Pink Champagne Cupcakes, for fans looking to celebrate.
Owner Rhonda Lemieux says she likes her treats to have local ties. She has been having fun with the Patriots theme – and so have her customers. "The people come in and you get the time to spend with them for a few minutes and they're all dressed up, the kids are dressed up and it's pretty exciting," she told ABC6 News.
Joe Cardoso of Lincoln is a regular in the shop. He feels these football cupcakes add a special flair to game-day parties. "You always want have a little extra touch," he explained. "It's a great thing, especially with guys. Every guy loves cupcakes, they just don't admit it."
Abby Candon of Cranston came to the shop to get her finace a celebratory cupcake. "Maybe he can have it before [the game] to hype him up," she said. "Or he can have it after to console himself. Hopefully not!"
Preparation work on Sunday starts at 4 in the morning. "We'll start baking, a couple of hours in we'll start frosting and getting the orders ready," Lemieux said. She is already planning what to do if the Patriots win.
© WLNE-TV 2014