Local farmers dreading Sandy's Arrival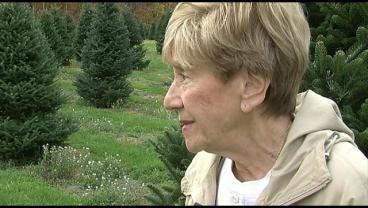 By: Liz Tufts
Sandy has now been dubbed Frankenstorm. The part hurricane, part winter storm is expected to do a billion dollars worth of damage, right before Halloween. It's also stressing out local Christmas tree farmers.
One type of tree Virginia Borrelli is praying stays still is Frasier Fur trees. "We've never had a Christmas tree fall over, " says Borrelli. But she knows the impact Sandy could bring. Potential winds up to 100 miles per hour, could wipe out her whole Christmas tree lot in Johnston. "There's nothing you can do about these trees they are where they are and hopefully they will be there when the hurricane passes, " says Borrelli.
If not, she has a whole lot of explaining to do to her customers. More than a 100 trees have already been tagged and paid for, ready to be chopped down to take home. "We haven't spent their money yet so if we have to give it back we give it back, " says Borrelli.
That could cost the family business thousands of dollars, and years of hard work. "It breaks your heart to see people suffer so I hope it doesn't do much damage and veers off and it doesn't come at all, " adds Borrelli.