Local High School Students, Busted for Underage Drinking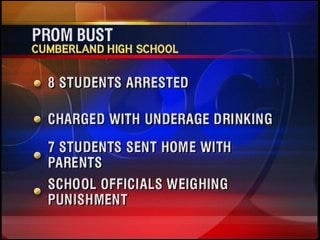 More than a dozen local high school seniors, are finishing off the school year in trouble.
15 students from Cumberland High School were taken into police custody on prom night, accused of underage drinking. 8 of the 15 students were arrested, the other 7 were sent home with their parents.
Foxboro Police made the bust, after being called to the Lake View Pavilion, where the prom was being held. When police searched the students' car, they found a bottle of vodka, and liquor flasks.
School officials are still deciding whether to allow the students to walk in graduation.
Stay with ABC6 News as we update this story.