Providence Kid Helping Save The Bay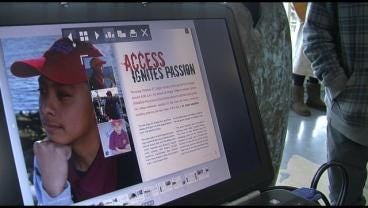 Every year, Save the Bay honors local heroes for their efforts in helping clean up Rhode Island's waters, but this year, one hero was a lot smaller than all of the others.
Elvis Garcia, a sixth grader at Roger Williams Middle School, is known for spotting 10 dolphins in the Providence River. While he and his classmates looked on, his teacher pulled out his cell phone, and Garcia explained everything.
"They came to Narragansett Bay because they were trying to eat these fishes called scup," Garcia shouts in the video. "And we have plenty of them!"
What Elvis did not know is that he had just reported a history making discovery. Dolphins had never been seen that far north before. Ever since then, the middle school student has developed a passion for marine biology.
"This is a horseshoe crab. This is a hermit crab," Garcia points out in his Save the Bay classroom. "This one is a purple sea urchin."
After listening to him, it is hard to imagine that Garcia was once behind in his school subjects, and that is why he got involved in the AfterZone Scholar's Program at Save the Bay.
"You could just tell when Elvis came out with us how completely immersed he was in learning all of this," Jonathan Stone, the Executive Director of Save the Bay said.
The after school program offers struggling students a way to learn in a different way. Organizers say Elvis, who took home the Young Baykeeper Award today, is proof that it is working.