Local man jams with rock-and-roll legends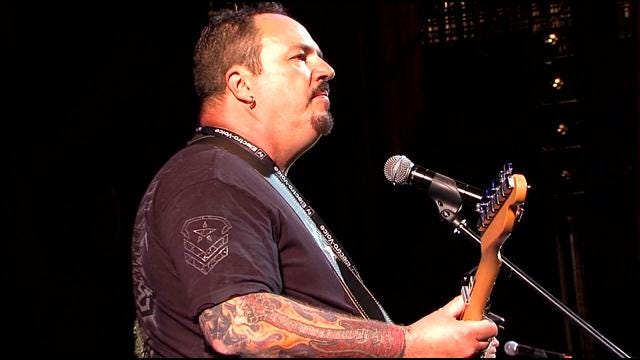 By: Doreen Scanlon
News: dscanlon@abc6.com
When you think of camp campfires and sleeping bags probably come to mind but as you're about to find out electric guitars and drums can't be ruled out either.
This is no ordinary camp experience.
This camp offered for the first time on the east coast is a musician's fantasy.
By day Chuck Augenti runs an auto body shop but by night
He's a rock n' roller, who jams on stage with Roger Daltrey from The Who!
So how does a 53-year-old guy from Pawtucket end up playing with a rock n roll hall of famer?
The answer it's what he did at *strummer camp."
This is rock n' roll fantasy camp.
Over four days at Foxwoods these wanna-be rockstars play their hearts out and learn a thing from their camp counselors who just happen to be veterans of the stage.
Some who've had number oneslike Johnny A and Gary Hoey, famous for his cover of Hocus Pocus, is the music director.
"So basically we have 4 days to groom them. How to rehearse, how to get ready for the show.. teach them a few stage moves. Its amazing for us because we actually get to see the excitement that they have as musicians," said Hoey.
Augenti's counselor is Rick Derringer…
"Its like a dream come true, I saw him at the Roseland ballroom in Taunton, Mass. back in 1978. We thought he was the coolest guy then. We all wanted to play like Rick Derringer," said Augenti. "I just jammed with Rick Derringer a few minutes ago. we did rock-n r-oll hootchie coo."
They didn't just play together, they bonded over their love of music.
"I'm hoping that I'll be able to help them that's really the bottom line here," said Derringer.
Hotel rooms are converted into jam rooms, out with the beds and dressers, drums, keyboards, and amps fill the floor instead.
People of all ages 12 on up come from all over the world to learn from these pros.
So whether you are a casual player or you really know how to let it rip anyone is welcome at camp shelling out five thousand dollars on up for the opportunity.
"They're your heroes… you get to play with your hero… how much cooler is that ," said Augenti.
One of those rock legends… Roger Daltrey, sang with each band, helping them with their performances.
"It's always fun I do this because it reminds me of why I a became a rock singer in the first place because this is the most fun thing I could ever think of doing. This brings you back home," said Daltrey.
The big finale, a concert in Foxwoods Grand Theater, the excitement builds, theater fills, last minute sound check, a quick tune up, lights up, and show time!
An exhilarating turn at the mic for Augenti to end fantasy camp, which he's planning on making his reality, "It's more or less what I want the rest of my life to be."