Local Players Lift Boston College Baseball Over Bryant In Smithfield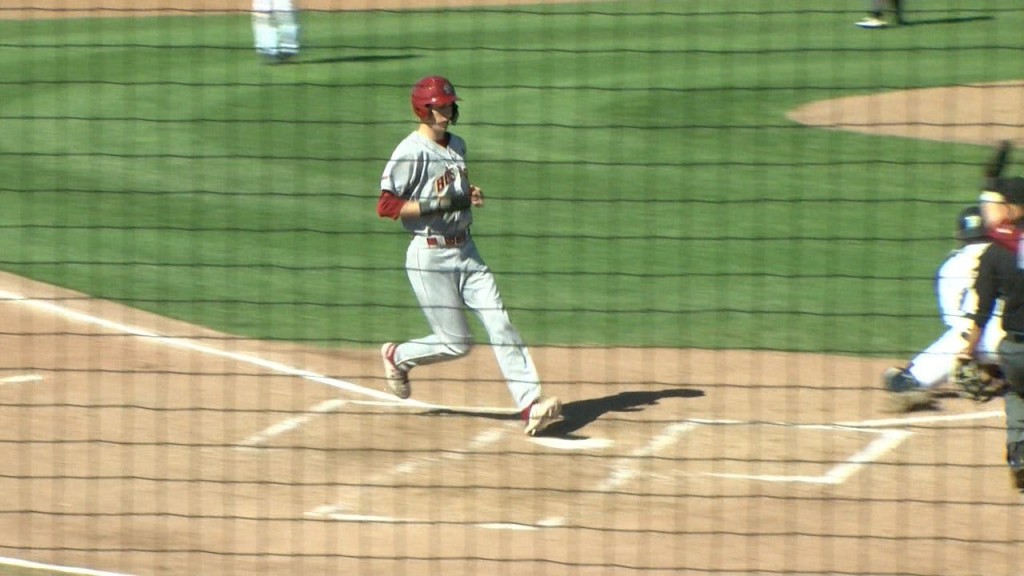 Bryant University Press Release
SMITHFIELD, R.I. – Junior Chris Wright (Cumberland, R.I.) tied a career-high with four hits but Boston College posted 18 hits on its way to a 10-5 victory over the Bryant University baseball team on Wednesday afternoon at Conaty Park.
Wright finished 4-for-5 with an RBI and a run scored, while classmate James Ciliento (Mahwah, N.J.) went 2-for-4 with a double, an RBI and a run scored. Freshman Jake Gustin (Peabody, Mass.) added two hits, an RBI and a run scored.
Game Information
Boston College 10, Bryant 4
Records: Bryant (28-13), Boston College (21-22)
Location: Conaty Park (Smithfield, R.I.)
W|L|S: Joey Walsh (3-5) | Will Treuel (1-1) | Matt Gill (2)
Key Moments
Bryant took a 2-1 lead into the top of the second but the first four Eagles all reached, with Chris Galland's two-run single giving BC a lead it would not relinquish.
How it Happened
BC got on the board first as Jake Alu singled and came around to score on a wild pitch. Freshman John MacDonald (Stamford, Conn.) escaped further trouble as he induced an inning-ending 6-3 double play.
Bryant answered with two runs in the bottom of the first. Sophomore Shane Kelly (Sewell, N.J.) walked, took second on a wild pitch and scored on a two-out single up the middle from Wright. Ciliento then followed with a line drive that carried over the right fielder's head for an RBI double.
The Eagles responded by loading the bases on two singles and walk. Chris Galland then plated two with a single through the left side and Sal Frelick's sac fly made it 4-2.
Boston College extended its lead with a two-out rally in the third. Joe Suozzi doubled with two outs and scored on a two-out single from Galland.
Bryant got a run back in the fourth as Gustin walked and came around to score on a single from redshirt sophomore Ryan Ward (Millbury, Mass.).
The Eagles pushed the lead to 7-3 with a pair of two-out runs in the 5th. An infield single scored the first run and a bases-loaded walk plated the second.
Gustin brought Bryant back within three in the bottom of the inning as he singled home Ciliento with two outs.
Boston College plated two runs in the top of the sixth. Gian Martellini (double) and Cody Morissette (triple) both plated runs to make it 9-4.
Stats
Boston College outhit Bryant, 18-12.
Wright finished 4-for-5 with a run and an RBI.
Ciliento went 2-for-4 with a double and an RBI.
Senior Nick Angelini (Bedford, N.H.) had two hits and an RBI.
Gustin finished 2-for-3 with two walks, an RBI and a run scored.
MacDonald allowed one run on two hits in one inning as the starter.
Redshirt senior Justin Snyder (Georgetown, Mass.) tossed 1 1/3 scoreless innings.
Senior Nathan Wrighter (Windsor, N.Y.) allowed one run over two innings.
Redshirt junior Jack Owens (Scituate, R.I.) and sophomore Matthew Stansky (Douglas, Mass.) retired the final six batters.
Notes and Notables
Bryant falls to 4-8 against Boston College at the DI level.
Bryant's streak of 13-straight games with a home run was snapped.
Ward now has 28 hits over his last 13 games. He's hit safely in all 13 of those contests.
Ciliento's 54 runs scored are tied for the fifth-most in a single-season in program history.
Wright has now reached safely in 30-straight games.
Wright's four hits tie his career high.
Gustin extended his hitting streak to eight games.
Up Next
Bryant travels to Staten Island to open a Northeast Conference series with Wagner on Friday afternoon. First pitch is set for 3:00 p.m.