Local Racer Chases His Dream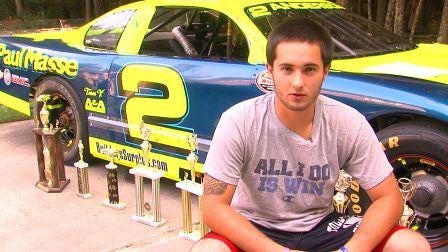 By Matt Blanchette
Much like other summer sports, the racing season is almost
finished. And one local racer is proving he can hang with the big
boys.
In high school Derryck Anderson played baseball, basketball and
lacrosse, but racing is what really drives him.
This summer the 18–year old made a huge leap, buying
a late model car, and moving up in competition from the Seekonk Speedway to the Thompson Speedway in Connecticut.
"I'd say it is probably the most challenging car I have
driven," Anderson said. "Only because I am racing with guys that have been racing at this track
for 10–15 years. They have a ton of laps at the track. And this is my first
year at the track so it's been a learning year."
It's a family business for the Andersons. They have their own garage at the
house and almost all the work is done by Derryck Jr. and Sr. and
grandfather, Merrill.
From an early age they all knew the kid had it in
his genes.
"Ever since he first started when he was ten he always wanted
to be actively involved in working on the car," Derryck Sr. said. "At first when he was young there
wasn't much he could do. But as he's gotten older, especially the last two
years, he has really stepped it up as far as knowing the set up of the car and he's
very hands on with everything that goes on in the car."
Derryck goes up against older, more experienced drivers on
a weekly basis, but in his first season is holding his own.
The anderson family pays for everything, which can get
expensive.
But they are going to see just how far they can take
it.
"I would like to take it to a nascar level," Anderson said. "This in my eyes
would be the funnest to more forward with and have a career with."
"I know my son in particular definitely has the passion for
it and he really has a love for the sport. We are going to go as far as we can go," Derryck Sr. said.