Local recreation projects across Rhode Island receiving more than $4 million in grants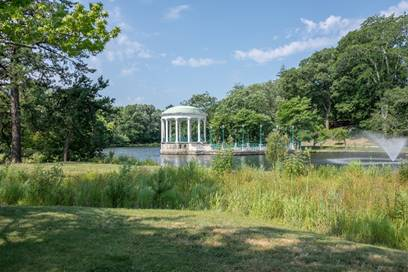 PROVIDENCE, R.I. (WLNE) — Gov. Dan McKee, Lt. Gov. Sabina Matos, and the Department of Environmental Management announced on Wednesday the awarding of $4.1 million in matching grants to develop or renovate recreational projects in Rhode Island.
The grants will fund 16 projects across the state, including new athletic fields, playgrounds, a splash park, a dog park, and various site improvements.
"Investments in recreational facilities knit our communities together and are integral to both physical and mental health and well-being," said McKee. "This is why I included a budget article proposing a $38 million Green Economy and Clean Water bond that will capitalize future local recreation spending in my fiscal year 2023 budget. Providing the funds to ensure that everyone has an opportunity to connect with nature, recreate, and exercise are central to our quality of life."
The program offers funding in three categories: small development grants with funding awards up to $100,000, large development grants with awards up to $400,000, and acquisition funds that support property acquisition for permanent outdoor recreation with awards up to $400,000.
Small grants were awarded to the following projects:
Barrington: Chianese Pickleball Courts, $80,000
Central Falls: Louis C. Yip Soccer Field Improvements, $80,000
Cumberland: Diamond Hill Pump Track Improvements, $100,000
East Greenwich: Academy Field Improvements, $100,000
North Providence: Westcott Park Kayak Launch, $100,000
Richmond: Richmond Dog Park, $71,580
Smithfield: Deerfield Park Splash Pad, $100,000
Large grants were awarded to the following projects:
Central Falls: Jenks Park Playground Improvements, $400,000
Cranston: Knightsville Park Revitalization, $400,000
East Greenwich: Eldridge Park Improvements, $400,000
East Providence: Kent Heights Recreational Facility Renovation, $400,000
North Providence: Coletti Athletic Complex, $400,000
Providence: Roger Williams Park Boardwalk and Fishing/Boating Pier, $400,000
Warwick: Apponaug Recreation Complex Improvements, $320,000
West Warwick: Crompton Playground and Stephen Clarke Recreation Area, $400,000
An Acquisition grant was awarded to Woonsocket's Acquisition for Cass Park Expansion for the amount of $312,500.
For more information on DEM programs an initiatives, visit dem.ri.gov.